Landmark Trial of Rwandan Genocide Suspect Opens in Paris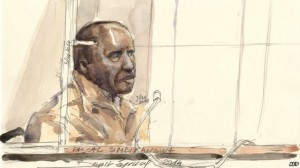 France has opened the trial of a Rwandan ex-army captain, Pascal Simbikangwa, who is being charged with complicity in the  Rwandan genocide that reportedly left 800,000 people dead.
The suspected accomplice is said to have appeared in a Paris court on his first day of the long-awaited trial in which over 50 prosecution witnesses are lined up to provide evidence of Pascal's alleged role in directing and arming Hutu killers, reports indicate.
According to reports, Pascal Simbikangwa, 54, was apprehended on October 2008 in the French island of Mayotte, where he had been supposedly residing under an alias.
Following his arrest, France declined to extradite Pascal as it had previously done in other cases and chose to try him under laws that permit French courts to consider cases of war crimes and genocide committed in other nations, reports indicate.
The case of Pascal, who has purportedly denied every accusation against him, is under scrutiny in France. For a long time, critics have accused France of its failure to rein in the Rwandan government during the genocide in 1994.
Long deemed as a safe haven for alleged instigators of the 1994 Rwandan genocide, France purportedly lags behind neighbors such as Belgium, Germany, and Switzerland, who have reportedly brought suspects residing on their soil to justice.
In 2004, the European Courts for Human Rights are said to have criticized France for taking too long to bring suspects accused of international atrocities to justice. France's purported refusal to hand over genocide suspects and unwillingness to prosecute them under a "universal jurisdiction" rule has reportedly driven a deep wedge between the two nations.
Critics have tied France's stalling to its close military and diplomatic ties with the Hutu-dominated regime that was in power at the start of the genocide.
France is also said to have offered military training  to Rwanda for years prior to the genocide. However, it has supposedly denied allegations of training the Hutu Interahamwe militia, who instigated the killings.
Following the genocide, many Rwandans are said to have fled to the European nation for safe haven because the two nations are reported to enjoy close diplomatic relations.  Critics say this trial is, therefore, viewed as sending a message that the European country will no longer act as a sanctuary for those accused in taking part in the Rwandan genocide that took place between April and July 1994.
According to reports, this trial has been long-awaited especially by Rwanda's present government, which is dominated by the Tutsi rebels who overthrew the Hutu extremists and ended the genocide.
Many genocide victims' groups say they have been waiting for this day for a long time. Alain Gauthier, co-founder of the Collective of Civil Plaintiffs for Rwanda, expects the suspect to provide some crucial answers.
If convicted, Pascal could face life imprisonment, sources indicate.  The suspect's lawyers are expected to press for Pascal's acquittal, citing fears that the case could be unjust, partly because they have faced difficulty in locating witnesses to speak in the suspect's defence.
Meanwhile, rights groups and critics remark that the trial will be a significant moment in the international fight against impunity.
Photo by AFP: A court sketch of Pascal Simbikangwa.