Eritrean Government comes under Criticisms at United Nations Human Rights Council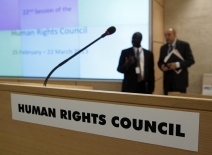 The government of Eritrea has been subjected to a barrage of criticisms for the nation's notorious human rights record.
At the United Nations Human Rights Council in Geneva this week, Eritrea's human rights record was scrutinized according to the organization's Universal Periodic Review program, and the consensus is that Eritrea has not done much to improve its human rights record since its last review in 2009.
Arbitrary arrests and torture, the absence of free speech, as well as social, political and religious freedom are some of areas where the council agreed the Eritrean leadership has failed to make any improvements.
It was further argued that the repressive status quo is directly linked to the mass emigration of thousands of Eritreans yearly.
Despite the fact that Eritrea has been a sovereign state since 1991, the ruling People's Front for Democracy and Justice has failed to implement a constitution –  although one was drafted in 1997.
Several advocacy groups have also criticized the repression in Eritrea and have called on President Isaias Afewerki to release journalists and other dissidents imprisoned without trials.
Reports have emerged that several of these detainees have died in custody due to the terrible conditions they are forced to put up with.
According to PEN International, nine journalists and nine political detainees died in custody in Eritrea last year. The organization claims thousands of people have been jailed in the country just for criticizing the ever controversial moves of the government.
However, in defense of the government of Eritrea, Tesfamicheal Gerahfu, the Eritrean Ambassador to the United Nations, says the east African nation is currently facing an internal threat to its security which justifies these arbitrary arrests.
According to him, the detainees are people who conspire to commit treason against the state, not people who have simply voiced their opinions.
Mr Gerahtu further dismissed the other charges, which he says are "motivated by sinister political agendas." Instead he argues that the UN must lift its sanctions on Eritrea in order to improve the lives of the people of Eritrea. He further relayed that the government will conduct Eritrea's much anticipated first elections in its history and implement a constitution once its security is guaranteed.
The Eritrean government continues to battle a coalition of rebel groups known as the Eritrean National Alliance, who are allegedly supported by the government of Ethiopia.
Photo by Denis Balibouse/Reuters.