Kenya and United Kingdom collaborate to end Poaching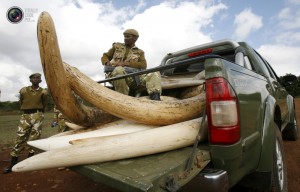 The government of the United Kingdom has revealed plans to assist Kenya stop unlawful wildlife trade and solve related issues, reports indicate.
According to a statement by Christian Turner, the British High Commissioner to Kenya, the United Kingdom has a responsibility to back the leadership that nations such as Kenya are demonstrating on the matter.
Reports indicate that the two countries have recently implemented a cross-government action plan to handle unlawful wildlife trade.
According to reports, the U.K. government has also reportedly launched a new funding of £ 10 million for projects related to poaching and prohibited wildlife trade.
The British envoy revealed that a rhino horn is currently worth more than platinum and gold, adding that it is believed to be more valuable than diamonds in the black market.
Turner also indicated that there is the likelihood of terrorists engaging in poaching as a way of generating income to maintain their activities. He asserts that a risk exists for terrorist or insurgent groups to gain from the prohibited wildlife trade thus undermining the economies and rule of law in Africa.
The envoy is reported to have appealed to the Kenyan government to develop substitute livelihood sources for communities that have the highest rates of this illegal trade.
The U.K. government will reportedly host an international conference in London on Thursday to address these concerns. The conference is expected to highlight the improvement of law enforcement, supporting the initiation of sustainable livelihoods in regions affected by wildlife crime as well as decreasing the demand for wildlife products.
Meanwhile, the Kenyan President, Uhuru Kenyatta, who is expected to join over 50 foreign ministers and heads of state in the Global Summit in London, has remarked that this is a crucial conference and Kenya's last chance to end the scourge of wildlife trafficking and poaching.
He further added that the summit is an unprecedented international effort to handle a crime that has been left to states to solve individually. Analysts say Kenya is one of the leading nations regionally, in terms of its reactions to wildlife crime.
Many have lauded the Kenyan government's new Wildlife Act, which is seen as a clear indication of the country's resolve to fight against poaching.
Kenya's Wildlife Service is also reported to have increased its number of rangers in the past year, and initiated collaborations with several organizations in the fight against poaching.
Pundits have described this trade as a criminal industry with the potential to destabilize regions and potentially threaten development.
Photo by Thomas Mukoya/Reuters.