New Mural in Rwanda Brings Hope to HIV Patients
By UNAIDS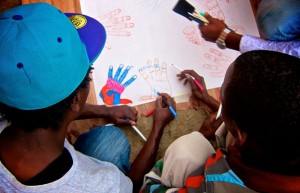 A new 14-meter tall mural painted on a wall of the Rwanda Biomedical Center (RBC) building features artwork against HIV stigma and promotes "positive living" within the community.
Unveiled to the public on 1st December 2013 in the Rwanda's capital of Kigali, the mural was painted by young people affected by HIV and contemporary Rwandese artists as part of the 'Kurema, Kureba, Kwiga' ('To Create, To See, To Learn') initiative.
The initiative, developed by RBC in partnership with Ivuka Arts Kigali (Rwanda's first community arts centre) and the Kigali Hope Association (a civil society organization that works with young people living with and affected by HIV), aims to help young people living with HIV to express themselves through art.
"By developing a project that engages people affected by HIV in creatively expressing themselves and engaging the public in seeing new forms of artwork, we are enabling a community to share more stories, spread positive messages, build relationships, and change people's perceptions for the better," said Judith Kaine, the 'Kurema, Kureba, Kwiga' project founder and coordinator.
Twenty peer educators from the Kigali Hope Association participated in a series of creative workshops hosted by Ivuka artists, with the help of a team of dedicated psychosocial counsellors.
Together, artists and participants explored different topics related to living with HIV as well as a variety of artistic methods to create a multimedia collection of powerful art pieces. Ranging from portraits to sculpture, large paintings to posters, the process of creating artwork together made for a very impactful experience for participants and artists alike.
"This project gave us an opportunity to reflect on how we see ourselves, how others see us and how the society perceives people living with HIV," one  participant said.
"In the art work I portrayed my life from a young age until now, how I was treated by my family and how I felt after knowing my HIV status. We are grateful to the artists from Ivuka for helping us to communicate a message through art."
The 2013 Rwanda stigma index report highlights HIV-positive status as the main reason reported for stigma and discrimination, which impedes access to social services and rights, laws and policies.
"Having an avenue for young people living with HIV to express their personal stories through art has been an enlightening opportunity for all," said Sibongile Dludlu, the UNAIDS Country Coordinator in Rwanda.
The 'Kurema, Kureba, Kwiga' initiative will continue to launch a variety of public art exhibitions in Rwanda to create awareness about stigma faced by people living with HIV and push for social change.