South Sudan: President Kiir to meet with rebel leader for peace talks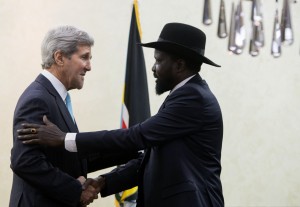 The President of South Sudan, Salva Kirr, has agreed to meet with his former deputy, now rebel-leader, Riek Machar, in Addis Ababa next week to find a solution to the four-month-long armed conflict in South Sudan.
According to the U.S. Secretary of State, John Kerry, who disclosed this information to reporters after a meeting with President Kiir on Friday, the South Sudanese leader is open to take crucial steps to end the protracted war.
"This meeting of Riek Machar and President Kiir is critical to the ability to be able to really engage in a serious way as to how the cessation of hostilities agreement will now once and for all really be implemented, and how that can be augmented by the discussions regarding a transition government and meeting the needs of the people of Sudan," he said.
Meanwhile, Mr. Kerry has revealed that Riek Machar has also agreed to attend the talks. The Ethiopian Premier, Hailemariam Desalegn, is also expected to be present at this highly anticipated meeting.
The U.S. Secretary of State also echoed concerns over reports of widespread sexual violence, the recruitment of child soldiers and broadcasts of hate speeches on radio.
Mr. Kerry has urged the East African Community (EAC) to prepare sanctions against key South Sudanese officials and rebels believed to be perpetuating the ongoing conflict. He further noted that the U.S. government is prepared to impose similar sanctions on these individuals.
Mr. Kerry also announced that an Intergovernmental Agency for Development (IGAD) peacekeeping contingent of about 2,500 will be deployed to South Sudan in the coming weeks.
Humanitarian agencies continue to call on the United Nations and other international, continental and regional organizations to investigate reports of genocidal mass murders over the past few weeks in South Sudan.
Reports indicate that more than one million people have been displaced from their homes and an unknown number of people (estimated to be in the thousands) killed since violence broke out in Juba on December 15th, 2013.
While the prospects of a ceasefire seems to be at hand, many commentators have noted that this is just the beginning of the process of healing the world's youngest nation.
The UN has vowed to investigate and support the prosecution of all persons found to have perpetuated war crimes during this conflict.
But the prospects of traversing the political impasse seems bleak as the President continues to dismiss any suggestions of a power-sharing deal until the country's next presidential elections in 2015.
Photo/Saul Loeb/Agence France-Presse/Getty Images/