President Kenyatta urges African journalists to be patriotic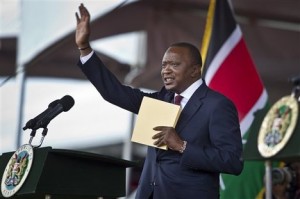 The President of Kenya, Uhuru Kenyatta, has called on journalists across the continent to allow patriotism reflect in their reports and portray the continent in a more positive and culturally balanced way.
Speaking at an event to mark World Press Freedom Day at the Kenyatta International Conference Centre on May 2nd, he noted that "Our challenge is to tell the African story from our African point of view. This means standing up for and defending African values, and the African experience, giving it expression, giving it a voice, and authenticating it. Kenyan journalists cannot afford and should not write about this country as if they lived on Mars."
The president also exhorted the media to take its rightful place as the fourth pillar of the state by educating the public and stimulating debates on national issues.
He further noted that his government is committed to the implementation of the Windhoek Declaration on freedom of the press as well as Kenya's laws on the media.
President Uhuru defended two contentious regulations concerning the media that were passed last year saying that they are to further ensure the country's media is unbound by both the government and private interests.
"If our regulations are new, pride in this country's robust media is old" he noted, adding that "Kenyan journalists of the past were among the heroes of our independence struggle. We remember and honour their contributions today."
While stressing on the importance of a free press, the president, however, highlighted the fact that there is "no room for absolute freedom of the press."
When " you fail in your duties to yourselves, your profession and your countrymen, then the state must and will defend those who have no other way of protecting themselves," he said.
The president went on to reiterate his government's commitment to providing conducive infrastructural and technological environment for the development of the media.
Several other nations also marked this important day across east Africa. While the day saw landmark conciliatory gestures by the government in some countries, journalists and other dissidents took to the streets to vent their frustrations in others.
Photo/AP/Ben Curtis.