Djibouti signs Defense Agreement with China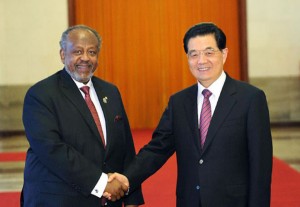 The governments of China and Djibouti have signed an agreement to promote mutually beneficial co-operation in the defense industry.
The agreement signed between Defense Ministers, Chang Wanquan and Hassan Darar of China and Djibouti respectively, will reportedly see the east African nation become China's defense arm in the region.
Reports indicate that Djiboutian authorities have appealed for foreign assistance in order to strengthen the country's Armed Forces and to consolidate peace in the sub-region.
Hassan revealed that his country continues to face security threats, which includes terrorism and piracy. He further noted that the country is set to expand its navy and air force.
Reports indicate that the Chinese government will provide some air crafts to Djibouti.
Hassan reportedly voiced his support for increased co-operation between the Chinese government and his country, particularly in technology transfer and training in the aviation and engineering sectors.
He also extended his gratitude to the Asian nation for her support to his country.
During his two-day visit to Djibouti, Wanquan also held talks with the President Ismail Omar and other senior officials.
Reports indicate that the Chinese government is growing to become one of the strongest partners of Djibouti.
According to reports, bilateral relations between the two countries have grown steadily since diplomatic ties was established between in 1979. Consequently, the two countries have had cordial relations in the areas of culture, health, and education, reports indicate.
In 2012, the two nations reportedly signed an accord to launch a Joint Ministerial Commission in order to deepen and expand economic co-operation. Also, last year, the two nations reportedly signed a power agreement which will see Djibouti's energy supply boosted significantly.
Observers say the economic and political ties between Djibouti and China is quickly transforming the small nation on the horn of Africa into a significant gateway for Chinese merchandise.
Photo: Midnimo.com