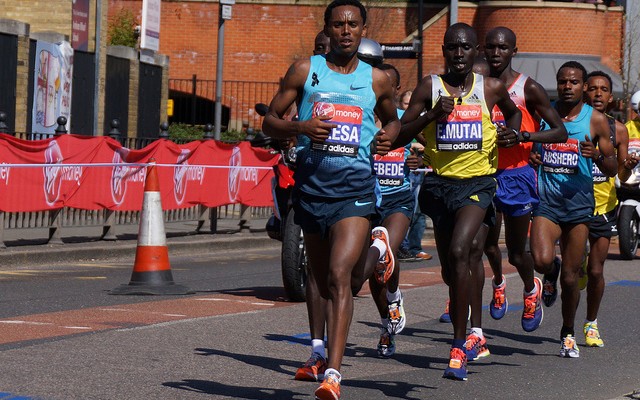 Ethiopian Athlete to Seek Asylum After Staging Anti-Government Protest During Rio Olympics
An Ethiopian athlete, who won the silver medal in the men's marathon at the just ended Rio Olympic Games, is set to seek asylum after he staged a protest against the Ethiopian government as he crossed the finishing line.
On Sunday, Feyisa Lilesa made an X sign with his arms again during a press conference after the race. The symbol is a sign of solidarity among the Oromo people, Ethiopia's largest ethnic group who have been protesting against the government since November 2015, AP reported.
The Oromo protests reportedly began against a government plan to expand Addis Ababa into the Oromia region.
Lilesa, who came second after Kenya's Eliud Kipchoge, says his protest might cost him his life or land him in prison, the Washington Post reported.
He also complained about the lack of freedom of speech in Ethiopia and claims members of his family have been imprisoned.
"The Ethiopian government is killing my people, so I stand with all protests anywhere, as Oromo is my tribe," Lilesa said. "My relatives are in prison and if they talk about democratic rights they are killed.
"If I go back to Ethiopia maybe they will kill me. If not kill me, they will put me in prison. I have not yet decided yet, but maybe I will move to another country," Lilesa added.
A crowd-funding campaign has since been organized to support Lilesa and his family as he is set to seek asylum, BBC reported. The organizers of the GoFundMe campaign initially set $10,000 as the target. However, donations surpassed the target an hour after it was open.
The target of the fundraising campaign has since been changed to $40,000. Contributors have so far donated $36,815.
It is unclear which country Lilesa has decided to seek asylum from.
The Ethiopian government has disputed reports that security forces have killed hundreds of Oromo protesters during waves of demonstrations.
"Ethiopian security forces have fired on and killed hundreds of students, farmers, and other peaceful protesters with blatant disregard for human life," Leslie Lefkow, deputy Africa director at Human Rights Watch, said in June.
The new waves of protests in Oromia are reportedly centered on demands that the people detained during the earlier protests are released, the New York Times reported.
There have also been protests in the Amhara region of Ethiopia. These protests, which started peacefully, turned violent after security forces and demonstrators clashed.
Last week, Ethiopia denied a United Nations (UN) request to send international observers to investigate reports that security officials used excessive force against protesters.
Ethiopia's government spokesman Getachew Red said the request for international observers was unnecessary since the UN already has a large presence in Ethiopia. He added that the Ethiopian government is responsible for the safety of the citizens, Aljazeera reported.
Ethiopian authorities claim the ongoing protests are being orchestrated by forces looking to destabilize the country and vowed to investigate reports of excessive force against demonstrators.
[Photo by JULIAN MASON/CC BY 2.0]