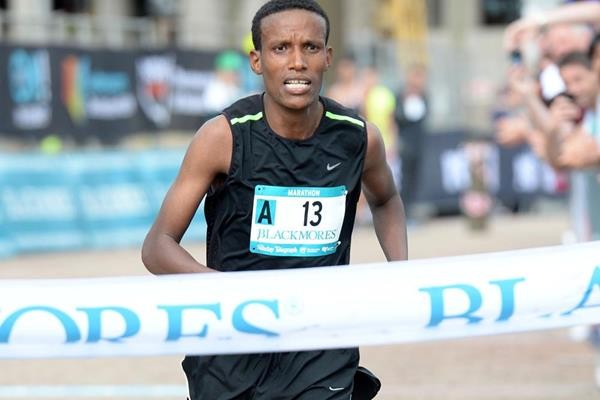 Gebo Burka, Ethiopian Winner of 2016 Houston Marathon, Banned for Doping
U.S. anti-doping authorities have banned the Ethiopian winner of the 2016 Houston Marathon for 18 months after he tested positive for steroids.
The United States Anti-Doping Agency (USADA) announced its decision to ban Gebo Burka this week, AFP reported.
The Ethiopian long distance runner reportedly tested positive for prednisone, a banned synthetic hormone that reduces inflammation.
According to the USADA, Burka's sample, which was collected on January 17th during the Houston Marathon, tested positive for prednisone.
"Prednisone is a substance in the class of Glucocorticoids and is prohibited in competition," a  USADA statement read.
Burka, whose ban is scheduled to end in August 2017, said he had been taking prednisone in small doses after a doctor's prescription. However, he did not disclose its usage to officials before the Houston Marathon.
As a result of the ban, Burka would have to relinquish his 2016 Houston Marathon title and other victories which came after January 17th.
Burka's suspension comes amid an anti-doping campaign that has affected Russia, Kenya, and Ethiopia.
The World Association of Athletics Federations (IAAF) has reportedly been investigating Ethiopian Athletics after a tip from a whistleblower.
In March, Ethiopia Athletics came under fire after several athletes failed doping tests.
In June, Spanish anti-doping authorities arrested the coach of Ethiopia's 1500m world champion Genzebe Dibaba after a long-running investigation.
Jama Aden, a Somali national, was arrested after Spanish authorities raided his hotel room in Catalonia.
EPO, a blood-boosting drug, and other unidentified medicines were reportedly found in two rooms in the hotel where Aden resided and trained over 20 athletes, including Dibaba.
The 53-year-old coach, who has vehemently denied doping his athletes, has a history of grooming middle-distance athletes.
[Photo by Delly Carr/IAAF]