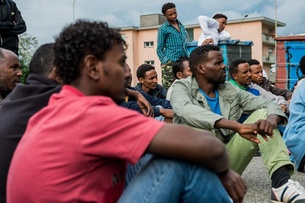 Eritreans Among 60 Migrants Found in Switzerland Aboard Train From Italy
Police in Switzerland have detained about 60 migrants found aboard a train heading in from Milan, Italy. The discovery of the migrants in southern Switzerland on Tuesday is reportedly the largest ever bust that Swiss border authorities have made on a train.
The migrants, many of whom are Eritrean men, were found when the train arrived at the Bellinzona Station, Swiss Info reported.
The migrants have since been transported to several asylum centers in the country. At these centers, Swiss authorities would cross check their personal information. The migrants have the option of applying for asylum in Switzerland.
Swiss border spokesman Mirco Ricci said the migrants who decide against applying for asylum in Switzerland would be returned to Italy.
Last week, a six-foot Eritrean man was found hiding in a suitcase on a train heading to Switzerland from Italy.
The man somehow managed to contort his body into his friend's suitcase in an attempt to sneak into Switzerland from Milan.
The long journey appears to have taken a toll on the man, and after 45 minutes he started to squeal as the train entered the Swiss-Italian border, Daily Mail reported.
The noise and movement from the suitcase terrified passengers who called Swiss authorities.
"We received a call from Italian colleagues that two Eritreans were attempting to get into the country and travel northwards across Europe from Britain," Swiss police told The Sun. "The information was that one man was hidden in a suitcase and another man was traveling with him. The suitcase was pointed out to us and the man was found inside. He was in his 20s and we found his friend in a toilet in the train."
The men, who reportedly did not have legal travel documents, have since been transported back to Italy.
Last week, police in Italy also arrested 38 suspected members of an international trafficking ring dealing in smuggling drugs, migrants and human organs from Africa to Europe.
The suspects, who were detained in three Italian cities after a year-long investigation, included 13 Eritreans, nine Ethiopians and one Italian, the Wall Street Journal reported.
Other 15 South African suspects have not yet been arrested, but their warrants have been issued.
The arrest of the trafficking ring is a boost to European authorities struggling to deal with the worst refugee crisis the region has experienced since World War II. According to the European Union, about 1.8 million migrants seeking asylum entered Europe last year.
According to a Europol and Interpol report, the smuggling of people from the Middle East and North Africa to Europe is a multinational business. Smuggling rings reportedly made about $5 to $6 billion from trafficking thousands of migrants to Europe last year.
About 1.8 million migrants seeking asylum reportedly entered Europe last year.
According to the State Secretariat for Migration, about 6,000 migrants applied for asylum in Switzerland in the second quarter of 2016.
[Photo by Keystone/swissinfo.ch]