Civil uprising in Gondar, Ethiopia, prompts Israel to fly its diplomatic staff out – Jerusalem Post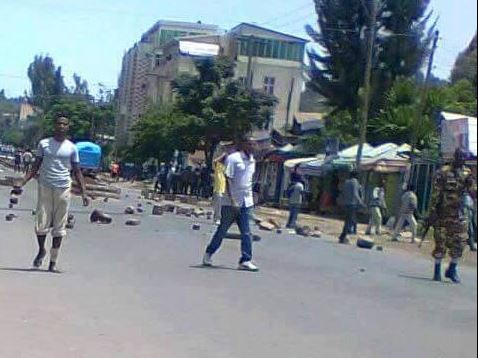 Israel's embassy in Addis Ababa, as well as the Jewish Agency, are working on plans to fly a group of Israelis holed up in a building in Gondar out of the city, marred overnight by ethnic tensions that took some 10 lives on Tuesday.
Some 6,000 Jews live in Gondar and there is currently a delegation of 23 Jewish agency emissaries there. According to a Foreign Ministry spokesman, they are currently in a secure and guarded building.
In addition there are an undetermined number of Israeli tourists believed to be in the region.
Ethnic fighting recently broke out between the Amhara and Tigray groups when armed forces from the Tigrayan People's Liberation Front (TPLF) entered Gondar, a city with a majority Amhara population, early Tuesday morning.
The forces have since arrested prominent local political lobbyists and have been accused of committing massacres, increasing violence
The Jews in Gondar have been stuck in limbo in Ethiopia. Their situation is compounded by the fact that living conditions in the city are harsh. Not only is there abject poverty and extremely high unemployment, but, because these people are identified as Falash Mura, they are also largely ostracized from mainstream community life.
The group has also been troubled by issues with immigrating to Israel. Around 9,000 people have been waiting in Addis Ababa and Gondar transit camps for the past several years in the hopes of making their way to the Jewish state. However, Jerusalem closed its doors in 2013 following a ceremony at Ben-Gurion Airport at which officials declared the "end" of Ethiopian aliya.
The fate of the prospective immigrants has been a matter of some debate, with Ethiopian- Israeli activists protesting what they portray as the breaking up of families.
According to a cabinet decision, any Ethiopian who moved to Gondar or Addis Ababa after January 2013, is willing to convert to Judaism, and has relatives here who can apply for his acceptance, will be eligible to move.
Netanyahu's administration has been accused of "looking for an excuse" not to bring the rest of the Jews of Ethiopia to Israel.
Latest reports reflect that the Jewish Agency emissaries are safe and sound in the Gondar airport, waiting for flight out.
Source: Jerusalem Post