Botswana Court Rules Against Deportation of 10 Eritrean Football Players Seeking Asylum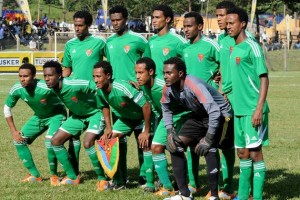 A High Court ruling has stopped Botswana from deporting 10 Eritrean national football players seeking political asylum in the southern African country. Last week, the athletes refused to go home after losing 3-1 to the hosts in a World Cup qualification match.
Eritrean athletes have a history of seeking asylum and abandoning their national duties during international competitions. The trend, which goes as far back as 2007, has alarmed regional sporting events organizers. So far, over 40 members of the Eritrean male national football team have defected.
The United Nations (UN) has criticized the Eritrean government for human rights violations, including extra-judicial killings, torture, slavery and mass imprisonment of members of the opposition.
The UN has also accused President Isaias Afewerki's government of forcing young Eritreans to join the army for their national service – which usually goes on indefinitely. Human rights groups say many athletes defect because they dread serving in the army perpetually.
Basadi Akoonyatse, vice president of Botswana's Football Association (BFA), said last week that the players and their coach Alemseged Efrem refused to go back home because they claim their lives are in danger. However, no details about the threats against their lives back home were reported.
The athletes refused to go home despite being persuaded by Eritrea's ambassador to South Africa. The players have surrendered to authorities and are being held in an immigration center in Francistown, Botswana's second largest city.
Other members of the team – 24 in number – have since returned to Eritrea.
Dick Bayford, a human right lawyer representing the defectors, was forced to file a case against Botswana for trying to deport the players.
Botswana's Defense Minister Shaw Kgathi is one of the main agitators calling for the players to be deported.
"It is simple. They must go back home. You don't come to a country to play football, lose and then say you want political asylum. No! There are proper steps to take and they can do that from their home country," Kgathi explained.
However, Bayford, who works with South Africa-based Eritrean Movement for Democracy and Human Rights (EMDHR), said the Kgathi's call was illegal according to Botswana's constitution. He has noted that given Eritrea's human rights record, it would difficult for the players to seek asylum at home without being persecuted.
Bayford added that some of the defecting players are members of the army. They could be charged with treason and face a court martial if they return home. Eritrea punishes this crime by death.
According to reports, over the weekend, Judge Godfrey Radijeng ruled in favor of the players. The ruling ordered that the players seeking asylum are not to be deported to Eritrea.
The ruling also set the date for the hearing of their asylum applications for December 11th.
Eritrea has consistently denied reports of widespread human rights abuse. However, athletes continue to seek asylum whenever possible.
In 2009, the entire Eritrean football team defected and sought refugee status during a regional tournament in Kenya. In 2012, 17 players and a team doctor disappeared in Uganda. They later resurfaced and applied for asylum.
The government has attempted to stop athletes from defecting during international competitions in different ways. Eritrea has withdrawn or abstained from international sporting events as a possible remedy. Officials also require athletes to pay a form of 'deposit' before traveling abroad. If they defect, their families in Eritrea would be fined or imprisoned.
According to the UN, about 5,000 Eritreans leave the country monthly. It is estimated that there are currently over 400,000 Eritrean refugees and asylum seekers across the world. Thousands, who flee, successfully seek asylum in Europe. In 2014, around 37,000 Eritreans sought asylum in European countries.
Photo:AFP