Pope Francis to Preach Peace, Reconciliation During November Visit to Kenya, Uganda and CAR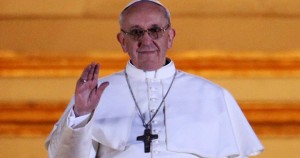 The head of the Catholic Church, Pope Francis, will bring a message of peace and reconciliation when he visits Africa for the first time next month.
On Saturday, the Vatican released the itinerary for the Pope's trip, showing that he will visit a parish in a slum area in Nairobi. Up to 20,000 Catholics are estimated to reside in the Kangemi neighborhood. The St. Joseph the Worker's Parish, where Pope Francis will visit, is behind several outreach programs in the community.
Pope Francis will also oversee a mass at the University of Nairobi and meet with young people and religious heads during his stay in the country from Nov. 25-27.
In Kampala, Pope Francis will pay tribute to 22 Ugandan martyrs, who were executed for refusing to recant Christianity in Namugongo in the 19th century. The Pope is visiting Uganda as the country celebrates the 50th anniversary of the canonization of the Ugandan Catholic martyrs by Pope Paul Vi is being celebrated.
While Pope Francis is set to be accorded stately honor and meet with the leaders of Kenya and CAR, there has been no indication that he will meet with Uganda's President Yoweri Museveni.
If President Museveni does not meet the Pope during his visit, it will clearly not be due to mistrust between the two. The Ugandan leader has met with Pope Francis at least twice since the latter was ordained as the Bishop of Rome in 2013. Their most recent meeting took place last month on the sidelines of the United Nations (UN) General Assembly in New York.
President Museveni has been actively preparing for Pope Francis' trip. Earlier in the month, he personally visited the Uganda Catholic Martyr's Shrine to oversee construction works.
The Pope will stay in Uganda between Nov. 27 and 29 before heading for the Central African Republic (CAR).
In Bangui, Pope Francis will meet with members of the interim government, religious leaders and young people. He will also visit a mosque to meet with members of a Muslim community in Koudoukou. CAR has been plagued with ethnic and religious tension since 2013. Many are hopeful that Pope Francis visit will help consolidate peace in the country.
"This visit will bring peace and hope to all the people of CAR and to neighboring countries," Fr. Jesus-Mortiol Demele, one of the organizers of the Pope's trip to CAR, told the Vatican Radio recently.
Pope Francis will be in Uganda between Nov. 28 and 30th.