16 staff members of Doctors Without Borders infected with Ebola; Liberia's transport minister quarantined after her driver died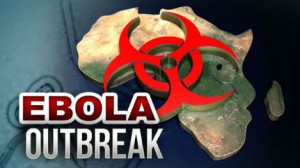 SIERRA LEONE (ASSOCIATED PRESS) — A Sierra Leone soldier has tested positive for Ebola but he is not a member of, and had no contact with, a battalion of peacekeepers waiting to deploy to Somalia, a government spokesman said Tuesday.
Meanwhile, Liberia's transport minister said she was voluntarily isolating herself inside her home after her driver died of Ebola.
The two situations underscore the precautions being taken to minimize the spread of the deadly disease, and the risks inherent in the movement of people.
In another example of the disease's relentless march, Doctors Without Borders said Tuesday that 16 of its staff members have been infected with Ebola and that nine have died. The toll highlights the high risk of caring for Ebola patients even at well-equipped and properly staffed treatment centers.
Angela Bush, Liberia's transport minister, said her last contact with her driver, who died over the weekend of the disease, was on Oct. 3. She did not know he was sick with Ebola until after his death, she said. She is not showing any symptoms of the disease, but Liberia's government has asked people to keep themselves isolated for 21 days if they think they have been exposed.
The country's chief medical officer put herself under quarantine about two weeks ago, after her office assistant died of Ebola.
Fear of Ebola's spread has already slowed the deployment of a battalion of Sierra Leone troops, who were supposed to relieve soldiers serving with an African Union mission to protect the Somali government and fight al-Shabab militants. The replacement's deployment was put on hold this summer when the Ebola outbreak in West Africa spiraled out of control.
Earlier this month, Osman Keh Kamara, Sierra Leone's ambassador to Ethiopia, where the AU has its headquarters, pleaded for the new battalion be allowed to rotate in and relieve their compatriots, saying the troops in Sierra Leone had been held in isolation for four months and screened for Ebola.
In recent days, the African Union agreed to that request, an official with the military mission said Tuesday. He insisted on anonymity because he is not authorized to speak to the press.
It was unclear if the announcement of the Ebola case would throw the deployment into doubt again. A Sierra Leone government spokesman stressed that the two are unrelated.
The soldier became ill while working at a military facility in Bengwema, and has been admitted to a military hospital, according to Abdulai Bayraytay, a spokesman with Sierra Leone's Ministry of Information. Meanwhile, the Somali-bound troops were being held in isolation at a separate facility in Hastings. The two towns, both near the capital Freetown, are about 20 kilometers (13 miles) from one another.
"This one case has no contact absolutely with the 850 troops on standby," Bayraytay said.
The Ebola outbreak that was first identified in March has devastated Guinea, Liberia and Sierra Leone. More than 4,400 deaths have been linked to Ebola so far and even that may be an underestimate, according to the World Health Organization.
Health workers have been particularly hard hit, further reducing the number of clinicians in countries that already had too few doctors and nurses to begin with. On Tuesday night, Guinea put out a call on national TV for the country's retired doctors to come back to work to respond to the crisis.
The United States, meanwhile, will give another $142 million, on top of the millions already pledged, to the fight against Ebola, Rajiv Shah, the head of the U.S. Agency for International Development, announced Tuesday in Liberia. The money will go toward building treatment centers, training staff to run them and supporting burial teams that do the dangerous work of collecting the bodies of those who have died from the disease.
"Our goal was to learn about what's happening here and try to accelerate the efforts so that fewer people die and more people survive so that we really turn the tide on this epidemic," Shah said of his tour of the region.
But Doctors Without Borders told reporters Tuesday that more help is needed to battle the outbreak.
"Where is WHO Africa? Where is the African Union?" asked Sharon Ekambaram, the head of Doctors Without Borders in South Africa, who worked in Sierra Leone from August to September. "We've all heard their promises in the media but have seen very little on the ground."
Juli Switala, a South African pediatrician with Doctors Without Borders, said her team made the difficult decision not to resuscitate babies who were not newborn out of fear that staff may be infected by bodily fluids. The clinic in the town of Bo in Sierra Leone similarly decided to turn away pregnant women because childbirth poses a greater risk to staff.
___
Chutel reported from Johannesburg. Associated Press journalist Jonathan Paye-Layleh and Wade Williams in Monrovia, Liberia, Boubacar Diallo in Conakry, Guinea, and Abdi Guled in Mogadishu, Somalia, contributed to this report.