Explosion in Nairobi kills 2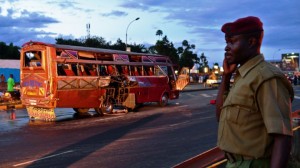 Two heavy explosions on one of Nairobi's busiest roads has left two people dead and over eighty injured on Sunday.
Reports indicate that the blasts on Thika road, which were allegedly caused by improvised devices, came in quick succession.
Both explosions reportedly targeted crowded buses – one near the Safari Park Hotel and the other by the Homeland Inn.
Nairobi's deputy police commander, Moses Ombati, has confirmed the death toll to Reuters. He further disclosed that "The final report will be known later tonight or tomorrow, once we check with all the hospitals."
About twenty of the injured victims from the explosions are in critical condition, according to the Interior Ministry.
Although no one has claimed responsibility for the blasts, pundits are pinning them on al Shabab.
This deadly attack in the capital city comes in the wake of similar explosions in Mombasa on Saturday.
Reports indicate that at least three people died from two blasts near the Reef Hotel in Mwembe Tayari.
Officials have revealed that more than one hundred people have been taken into custody following the explosions yesterday.
Similarly, the deputy president, William Ruto, who described the attack on Thika Road today as a "dastardly act", has revealed that security agencies are in pursuit of the perpetrators.
Meanwhile, security experts have warned Kenyans to be on high alert for a wave of impending terrorists attacks . Crowded places and traffic jams have been identified as the preferred targets of the attackers.
Photo/AFP