Tanzania to Strengthen Ties with China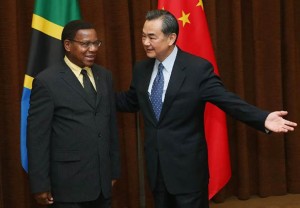 The governments of Tanzania and China have agreed to strengthen their diplomatic ties as both nations marked 50 years of communication and co-operation with one another.
Reports indicate that Wang Yi, China's Foreign Minister, who met with Bernard Membe, his Tanzanian counterpart in Beijing on Tuesday, highlighted the mutual trust, respect, and support the two nations have shared.
Wang said his country looks to improve high-level exchanges, consultation on global affairs, practical cooperation, and enhance win-win bilateral ties with Tanzania.
The friendly relations between the two nations have resulted in various agreements over the years, reports indicate.
Last year, the two countries reportedly signed agreements for developmental projects, under which China is expected to fund and construct a $10 billion port at Bagamoyo among other infrastructural projects.
The Bagamoyo port, which is set for completion by 2017, will accommodate 20 times more cargo than the one located in the country's capital, analysts say. Chinese-Tanzanian agreements have also resulted in other projects such as the development of a modern industrialization and agricultural zone.
During a separate event last week, Lu Youqing, China's ambassador to Tanzania, stated that the two countries have a long history of co-operation in several areas such as economic, political, and social interests.
He further stated that China's eagerness to encourage bilateral relations with the African nation is aimed at developing a platform to explore and discuss opportunities. According to Lu, the cooperation will assist Tanzania locate Chinese partners and maximize opportunities for further development.
The Chinese Foreign Minister noted that this mutually beneficial relationship will be strengthened by the Forum on China Africa Cooperation (FOCAC) – a platform created to promote cooperation and exchange between African nations and China.
This forum covers numerous aspects of trade, culture, politics, and economy. According to reports, the platform holds ministerial conferences after three years and alternates between an African nation and China.
During the recent agreement, Bernard Membe, Tanzania's Minister of Foreign Affairs and International Cooperation, remarked that China is an ally to developing nations.
The Tanzanian Minister described the Tanzanian-Zambia railway as well as the Julius Nyerere International Convention Center as signs of friendship with the Asian nation.
Reports indicate both nations have plans of expanding their areas of co-operation.
Photo: Wang Yi and Bernard Membe, the Chinese and Tanzanian Foreign Ministers.