al Shabab Attack Somali Presidential Palace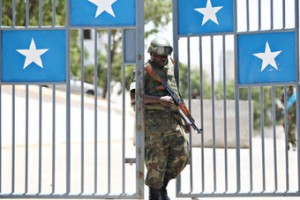 Islamist militant group, al Shabab, have conducted an attack on Villa Somalia, the residence and central work station of the interim Somali Federal Government.
According to accounts of witnesses and police sources, a car exploded near the gate of the building at about midday on Friday, creating a hole in the wall.
Reports further indicate that a group of 10 gunmen emerged from two cars nearby and engaged Somali security forces and African Union peacekeeping forces in a gun battle as they tried to penetrate the heavily guarded building.
Witnesses say the attackers were dressed in military outfit and wore red berets associated with the presidential guard.
Somali officials have revealed that the terrorists have been successfully repelled.
It is currently unclear how many casualties resulted from the attack. However, there are reports that at least 2 officials and 9 terrorists are among the dead.
The president and prime minister of Somalia, who were reportedly in the palace during the violent take-over attempt, have both condemned the attack.
Prime Minister Abdiweli Sheikh Ahmed earlier tweeted saying "My government will not allow the enemies of peace to derail the work people across our country are doing to rebuild Somalia."
This attack come after a car failed car explosion at Somalia's main international airport last week.
Although African Union and Somali security forces have been able to successfully limit al Shabab's sphere of control to a few communities in southern and central Somalia, the terrorists have proven capable of attacking liberated areas.
Sheikh Abdul Aziz, spokesman for al Shabab, told AFP that the attackers intended to "kill or arrest those who are inside" the presidential palace.
The historic Villa Somalia, which is said to symbolically look over Somalia, is also shared by the prime minister and speaker of parliament.
Pundits say the Somali government must increase security in vital locations across the nation, noting that the terrorists seem set on conducting a high profile attack to retaliate for their losses on the battlefield.
Photo by Mohamed Dahir/AFP: An African Union soldier exiting the Villa Somalia.