Ethiopian Government Denies Ethiopian Airlines Hijacker Co-Pilot Faced Persecution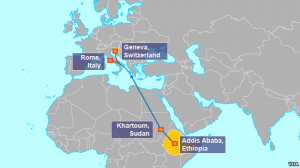 The Ethiopian government has revealed that the co-pilot who seized an Ethiopian Airlines plane on Sunday was not facing persecution in his home country, according to a report by the VOA.
Hailemedhin Abera Tegegn, the co- pilot, who is reported to have requested asylum after taking the plane to Geneva, Switzerland, is now in the custody of Swiss officials.
Ethiopian government spokesman Redwan Hussein has said the co-pilot's actions do not add up as he had no criminal record in Ethiopia.
The co-pilot, who had no medical record, had been working for Ethiopian Airlines for five years.
"As it is an Ethiopian Airlines pilot, he has several opportunities to apply for any airlines, withhold his dignity, and also he has a host of visas, including the Shengen-state visas. So he does not have to hijack his own plane and [get] himself into hot water," Redwan said.
It is being reported that he had hijacked the plane after he locked the door when the other pilot went to use the restroom.
If tried and convicted, the co-pilot could face up to 20 years in prison in Switzerland.
The Ethiopian Government's spokesperson has said that there is no bilateral extradition treaty between Ethiopia and Switzerland.
"Because this criminal act is a threat posed for all international community and for all countries, the Ethiopian government would actually deliberate it over as to how to go about it and we will let the media know which action that we are going to take," he said.
The plane had carried 193 passengers. None of them were hurt and no violence was used during the hijacking.
Ethiopian Airlines is Africa's fastest growing airline and made a profit of $143 million in its last fiscal year.
The story is by the Voice of America.