Ethiopian Airlines Hijacker Co-Pilot to Stand Trial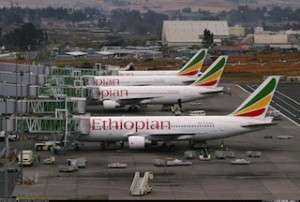 Swiss officials have revealed that the Ethiopian Airlines co-pilot, Hailemedhin Abera, who hijacked his own flight on Monday, will be charged for taking hostages.
A Swiss court has reportedly appointed a defence counsel for Abera and ordered that he is held in custody until his trial begins. However, his trial date is yet to be announced.
Reports have emerged that the 5-year employee of Ethiopian Airlines hijacked the flight heading from Addis Ababa to Rome by locking the pilot, who was visiting the washroom, from the cockpit.
Reports further indicate that Abera threatened to crash the plane if the pilot did not stop demanding entrance into the cockpit by knocking on its locked door.
Although earlier reports claim the 200+ passengers and crew of the Boeing 767 flight were largely unaware of the situation in the cockpit, new reports indicate otherwise.
According to reported accounts of passengers, oxygen masks were let down at some point and a distressed male voiced warned "sit down, sit down or I'll take your oxygen."
Reports further indicate that the flight attendants continued to hand out refreshments and reassure the disturbed passengers of their safety. All the passengers and crew members were reportedly safe.
On Wednesday, Alemu Asmamaw, an uncle of Abera, revealed to reporters that the loss of a close relative of the airman had made him emotionally distressed.
His family have expressed shock at the news of his terror act, noting that he was a loyal employee of Ethiopia's national airliner. However, they have also revealed that he had been withdrawn in the past year and reportedly revealed to them that he suspected he was being monitored.
The Boeing 767 plane Abera hijacked has been released to Ethiopian Airlines on Wednesday and everything has returned to normal at the Geneva airport he landed.
Swiss officials say an investigation is ongoing into the incident to create better understanding of the curcumstances surrounding the hijacking.
While pro-government supporters say authorities have been exonerated from direct complicity in the airman's weird move, other pundits are calling for a revision of security protocols in aircrafts to prevent them from being hijacked with such ease.
Photo by Sudan Tribune.