Ethiopians Returning from Saudi Arabia may Reach 100,000 – MFA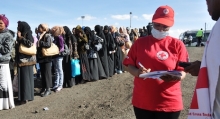 The Ethiopian Ministry of Foreign Affairs has said the projected number of migrants being deported from Saudi Arabia has more than doubled.
Foreign Ministry spokesman Dina Mufti told Sudan Tribune: "Although we first projected to bring back home [a] maximum [of] 30,000 [people, the number of ] citizens seeking return is increasing. …The number of Ethiopians flown home has so far reached 70,000 since Ethiopia began the repatriation operation on November 13th."
If the ongoing mass airlift continues at this pace, the number of returnees could reach 100,000 in the coming days.