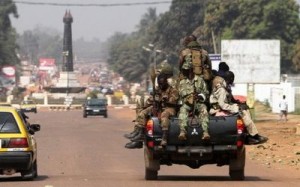 The Ugandan Army, U.S. Special Forces and the AU's Joint Task Force (JTF) have killed the LRA's chief of operations and logistics planner along with at least 14 Lord Resistance Army (LRA) soldiers, according to a report by Daily Monitor.
Speaking to Reuters, Uganda's deputy army spokesperson, Major Robert Ngabirano revealed that "We were alerted last week by our US partners about a group of 30 LRA fighters who were about to cross River Vovodo in south-eastern CAR.
"W e subsequently deployed and were able to kill 14 including Colonel Samuel Kangul who is Kony's chief planner and No 4 in hierarchy. Some others drowned in the river and we were also able to capture one alive," he added.
The Lord Resistance Army (LRA), which was formed in the late 1980s, originally operated in Uganda, but have spread to other regions including South Sudan, the Democratic Republic of Congo and Central African Republic (CAR). The LRA is reported to carry out mass executions, as well as amputate and rape locals of the villages they take over. The rebel group is also accused of forcibly recruiting child soldiers and sex slaves.
In 2011, the U.S. deployed special forces to assist the Ugandan army and the African Union's JTF track and stop the LRA and bring their leader Joseph Kony to the Hague—the court has issued an arrest warrant for him and other LRA leaders since 2005. Currently, the whereabouts of Kony is unknown and there are numerous speculations that he is ill.
According to the Major Ngabirano, the commander who was killed is believed to be fourth in the LRA rank. "Kangul controlled the Chinko-Kogota axis (CAR), and we estimate he had about 30 fighters when our troops killed him," Major Ngabirano revealed.
The original contingent, which is estimated to have numbered about 30, were reported to be heading to join another contingent in CAR, before the attack.  The army revealed that several items were recovered from the rebels including several weapons, satellite and communication equipments, as well as SIM cards, which may be able to lead the authorities to the rebel's hideout.
There have been speculations that the LRA is on its knees and may be about to surrender. Following an LRA attack on two villages in South Sudan early in November, the South Sudanese RTF deputy commander noted that the attack seemed more "desperate" than calculatedly "offensive", adding that it seemed to be inspired by a lack of supplies as the rebels were after the villages' food.
The United Nations and African Union have called on CAR authorities to facilitate the surrender of the LRA and its leader Kony.
The U.S. government has revealed that $5 million will be offered to anyone who provides information leading to the arrest of Joseph Kony.
Photo: Soldiers ride on the back of a truck in CAR. [Reuters]