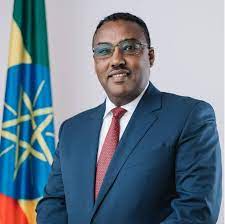 Demeke Mekonnen to step down as Ethiopia's Deputy Prime Minister
Unconfirmed information revealed that Demeke Mekonnen is to step down as Deputy Prime Minister and Foreign Affairs Minister of Ethiopia.
The 58-year old long-serving Ethiopian politician has been credited for playing key roles in overthrowing the 27-year rule of the Tigray People's Liberation Front (TPLF) nearly four years ago.
It is not clear if Mekonnen himself is resigning or the ruling Prosperity Party (PP) is dismissing from office.
Mekonnen's resignation is expected to be official shortly after the end of the ongoing PP's general assembly.
The general assembly also is set to approve the introduction of a presidential governing system in Ethiopia. 
Prime Minister Abiy Ahmed is expected to be President of the country after 30 years in the history of Ethiopia's government structure..
Meanwhile, Prime Minister Abiy Ahmed has called for peaceful resolution to the Russia-Ukraine   conflict.
Ethiopian Prime Minister Abiy Ahmed in a statement on Thursday said parties in the Russia-Ukraine war need to exercise maximum restraint to end the crisis peacefully.
He said his government is closely following the developments in Europe with great caution.
According to him, the global community's tragic historical past coupled with the vast leaps and advancements countries have made in the 21st century beckon a more nuanced approach in international relations and diplomacy.
"A zero-sum situation need not be our reality, especially when we can rely on the lessons of the past to draw us to greater heights of coexistence," he said.