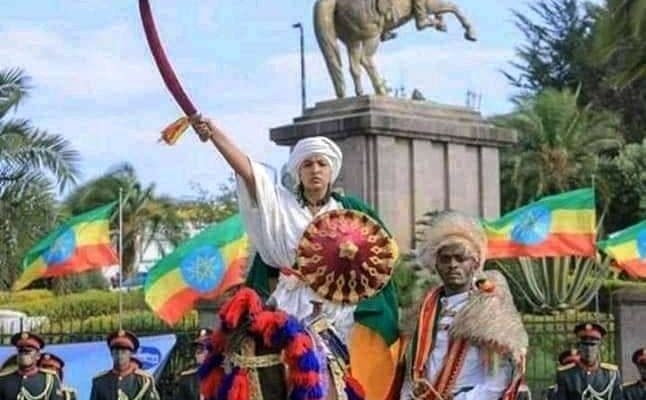 Large crowds commemorate 126 Adwa Victory at Menelik square, protest change of venue
Large crowds on Wednesday gathered at Menelik square in Ethiopia's capital, Addis Ababa to commemorate the 126 anniversary Adwa Victory and protest the government's decision to change the venue of the celebration.
Crowds carrying Ethiopian flag and wearing T-shirts with photo printed of Emperor Menelik and Empress Taitu denounced the government's attempt to belittle the role played by the emperor who led the fight and defeated the invading Italian Colonial Army at the battle of Adwa in 1896.
This year, there have been reports that government authorities imposed restrictions on Ethiopians not to celebrate Adwa victory at the Menelik II Statue near St. George Church in the centre of the city.
The matter triggered extensive controversy and Ethiopians took it to social media to blast what they call government sabotage to detach the victory of Adwa from emperor Menelik II.  Government wants much of the celebration to take place at Adwa bridge where there is no Statue of the Emperor or the Empress.
Addis Ababa police temporarily closed a portion of the streets leading to the Menelik Square until they were overwhelmed by angry protesters.
Adwa is celebrated as a symbol of Ethiopia's unity, said some of the people in the crowd and denounced police's intimidations against celebrants wearing T- shirts with photo printed of Emperor Menelik and his wife Empress Taitu.
Emperor Menelik II and his wife Empress Taitu led the Ethiopian army in person, travelling from the capital all the way to Adwa. The Empress herself is recorded in the history of battle of Adwa as one of the best military strategists.
The victory had been an inspiration in the entire African continent during the struggle against colonialism.