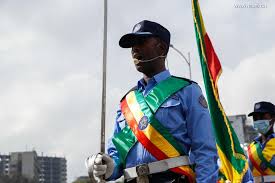 Addis Ababa police undress citizens wearing T-shirts with photo printed of emperor Menelik
Addis Ababa city police have made citizens in the capital, Addis Ababa undress T-shirts having photos printed of emperor Menelik and his wife empress Taitu as well as the Ethiopian flag.
The police's action comes one day ahead of the 126th anniversary of the victory of Adwa marking the defeat of the invading Italian forces by the Ethiopian warriors back in 1896.
Witnesses told Zegabi.com that the police officers have beaten and detained an undisclosed number of youngsters who refused to undress the T-shirts carrying photos of the emperor and empress.
There has been disagreement between the Ministry of Culture and Tourism and the Ethiopian Patriot Association and the public at large after the Ministry announced that this year Adwa victory would take place at "Adwa Bridge."
Former Ethiopian governments and the general public have been celebrating the victory of Adwa at Menelik Square where the emperor's monument is erected.
Minister of Culture and Tourism Kejela Merdassa Tuesday announced that the126th anniversary of the victory of Adwa would take place at Adwa bridge without stating the rationale behind.
In 1896, Italy was defeated by Ethiopia at the Battle of Adwa, signaling the end of the "might is right" era assumed by the European powers of the day.
The defeat of the Italians was a major blow to the industrial world because it heralded the beginning of resistance against the industrial powers and the struggle for independence by the colonized African nations.