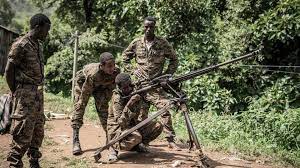 Ethiopian National Defense Forces join fighting against TPLF forces
The Ethiopian National Defense Forces have joined a counter offensive against forces of the Tigray People's Liberation Front (TPLF) which are fighting the Afar forces in northern Ethiopia. 
Information reaching Zegabi.com said the ENDF officially announced the redeployment of its troops in Afar region following public outcry over their reservation from the fighting for at least three months. 
Accordingly, the Afar forces managed to dislodge the Tigrayan forces from several areas of Afar region after they got the support from the federal army mainly of heavy weapons. 
The TPLF forces however are still bombing of Berhalle and Koneba districts of Afar region using heavy weapons being fired from their territory. 
Unconfirmed information said several TPLF troops were killed and 60 others surrendered to the Afrar forces. 
Meanwhile, the Oromia regional government claimed that it has dislodged the rebel Oromo Liberation Front (OLF) from two districts in Guji zone in Oromia region. 
OLF fighters were cleared from the two districts in Qellem Wellega zone in joint operation carried out with the residents living there, according to Haile Gurmessa – Deputy Head of the Qellem Wellega Security Department. 
Haile said the national defense force, the region's Special Forces, police and militia are participating in the counter offensive against the OLF forces. 
The Oromia Security Officials had made similar remarks that they had taken offensive against OLF troops while the rebel forces became strong and controlled additional areas.