UN Security Council Approves More Troops for AMISOM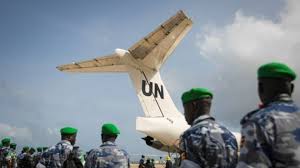 The United Nations Security Council unanimously voted yesterday to deploy about 4,400 more soldiers to support the African Union's Mission in Somalia (AMISOM)–bringing the total number of AMISOM soldiers to over 22,000.
The council also agreed to send supplies to AMISOM troops and extend the time-line for their presence in Somalia until October 31st, 2014.
This news comes after the UN's Deputy Secretary General Jam Eliasson paid a visit to Somalia last month to inspect AMISOM's gains. According to the Deputy Secretary General's report, the mission in Somalia runs the risk of grinding to a halt due to the lack of support and vital supplies.
The resolution adopted by the 15-member council yesterday noted that AMISOM and the Somali army "have now assumed a more defensive posture," adding that "recent security gains against Al Shabab are at serious risk of being reversed."
This resolution comes after a string of recent attacks by the Al -Qaeda linked terrorists–most notably the attack on the Westgate in Nairobi last month.
"As recent attacks show Al-Shabab continue to pose a threat, not just to Somalia, but to the wider region, and now is time for the Security Council to act," Mark Lyall Grant, Britain's UN Ambassador said.
The council noted that Al Shabab have adopted guerrilla warfare strategies in their recent attacks, and therefore AMISOM needs more soldiers to hunt down the terrorists in their strongholds in Southern and Central Somalia.
In response to Al Shabab's attack on a UN building in Mogadishu earlier in the year, the UNSC also authorized the creation of a special UN static guard unit to protect UN property and interests in Somalia.
The UN Secretary General Ban Ki Moon advocated for increased collaboration between the AU, UN and the government of Somalia. He also called for the training of Somalia's Police force to facilitate the planned transfer of security responsibilities from AMISOM to Somali authorities in about 18 to 24 months.
AMISOM, which was deployed in 2009, is made up of troops from several African countries including Burundi, Uganda, Kenya and Sierra Leone. Ethiopia, which has its troops on a separate peace keeping mission in Somalia, recently expressed interest in joining AMISOM. The Ethiopian Prime Minister Hailemariam Desalegn explained that Al Shabab's recent daring cross border attacks proves that there is need for co-operation to completely eliminate the terrorists.
Source: UN News Centre