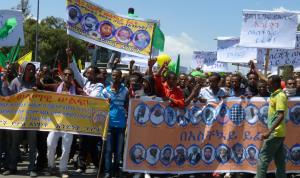 ADDIS ABABA – An Ethiopian opposition group, Union for Democracy and Justice party (UDJ), has held a large protest demonstration in Addis Ababa on Sunday, September 29, 2013. It was the largest protest event since the post-2005 elections crackdown that left thousands of people dead and wounded.
The demonstration, named 'Millions of Voices for Freedom,' started at the party's main office in a neighborhood known as Kebena, however, as the marchers headed toward Meskel Square, they were blocked by the police. Concerned about violent confrontations with the police, the organizers redirected the march to a smaller public square near the party's office.
The march, which was joined by 33 other opposition groups, demanded economic reform and the release of political prisoners.
In the days leading up to the September 29 march, UDJ's chairman and former President of Ethiopia Negasso Gidada was detained twice, but the march was held without any serious incident.
After the death of Prime Minister Meles Zenawi last year, Ethiopia's new leadership seems to be willing to allow opposition parties to stage protests, while making it difficult for them to organize large public rallies. The opposition groups themselves, after being crushed by the late prime minister with no international consequence, are regrouping themselves in a manner that is not too threatening to the ruling party.