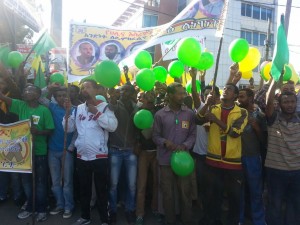 Members of a leading Ethiopian opposition party took to streets of Addis Ababa on Sunday to protest the country's anti-terrorism law.
Speaking during the protests, the leader of the Unity for Democratic Justice (UDJ) party, Negasso Gidada, urged the government to "abrogate the law and to release all political and prisoners of conscience immediately."
Demonstrators also called for political reforms and asked the government to clarify how it defines terrorism.
A legislator from the opposition, Girma Seifu said "The very intention of the anti-terrorism law is just to ban the activities of the civil society, the activities of media, and the activities of parties." They also asked the government to respect the right to land ownership.
Human rights groups have for a long time accused the Ethiopian government of using the anti-terrorism law against peaceful dissent although the constitution guarantees freedom of expression.
The government continues to deny these allegations stating that the opposition is attempting to glorify convicted terrorists and diminish the threat that Ethiopia faces as a result of terrorism. State Minister of Government Communication Affairs Office, Shimelis Kemal, said the demands for the release of prisoners whose cases are undergoing the court process are proof that the opposition does not respect the independence of the judiciary.
UDJ also alleges that at least seven its senior officials had been detained by the police earlier in an attempt to obstruct the planned demonstrations. According to Girma Seifu, the police gave "conducting unpermitted street announcements" as the reason for the arrest. The government denied these claims as well.
Several members of the opposition and journalists have been jailed since the anti-terrorism law was adopted in 2009. Ethiopia currently has the world's highest number of exiled journalists.