Prez Kenyatta's presence at U.N assembly in question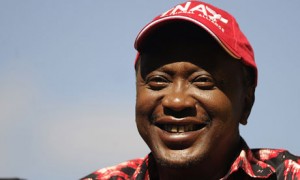 Kenya's President, Uhuru Kenyatta, is set to join 131 other world leaders at the United Nations General Assembly in New York. Kenyatta's presence at the meeting has been in question following his deputy's absence due to an ongoing trial in the Hague. Mr Manoah, Uhuru's spokesman, said the President will make a final decision regarding the trip over the weekend. Uhuru had also been charged with crimes against humanity, but ICC prosecutors uncharacteristically ruled to grant him Presidential immunity.
This meeting will be one of the largest UN general meetings in history. In addition to the 131 leaders, about 60 foreign ministers are also expected to be present. The world leaders are expected to discuss various issues affecting Africa and the world at large.
Photo by Simon Maina/AFP/Getty Images