Blast in Somalia Commercial Plane Bores Hole in Fuselage, Killing One Passenger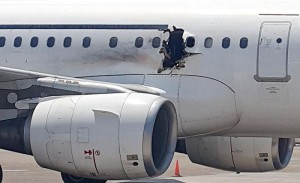 Somali aviation authorities are investigating the cause of a blast that tore a hole in a passenger plane moments after it took off from Mogadishu's international airport on Tuesday.
The incident, which left one passenger injured and another dead, happened aboard Daallo Airlines Flight D3159. The plane carrying 74 passengers and crew members was heading to Djibouti when the blast occurred.
After the explosion, which bore a hole in the fuselage, a passenger whose identify had not been disclosed, was sucked out of the plane to his death at 14,000 feet.
Hassan Mohamed Nur, a passenger, said the cabin was dark and covered with smoke after the blast occurred. He added that he witnessed an elderly passenger falling off the plane after being sucked out through the hole.
"I saw the passenger, a man in his early 60s, get sucked out of the plane," Nur said. "There was a huge bang. A big hole appeared in the side of the jet and the man disappeared through it."
"One minute he was sat in his seat, the next it he was gone. He'd been sucked out of the plane," he added. "People were screaming. We all thought we were going to die."
According to reports, the charred corpse of a man was discovered by residents of Balad, a town about 30 kilometers north of Mogadishu.
The injured passenger, an elderly man from Finland, has since been transported to a hospital in Mogadishu where he is reported to be in a stable condition.
Despite the blast, the pilots were able to successfully turn the plane back for an emergency landing in Mogadishu's airport.
Capt. Vlatko Vodopivec, the Serbian pilot, said the blast, which happened when the plane was around 11,000 feet, was caused by a bomb. However, officials say preliminary investigations have not turned up any evidence to prove an explosive device caused the blast.
Mohammed Ibrahim Yassin, CEO of Daallo Airlines, said it was too early to dismiss the opinion that the blast may have been caused by a bomb.
"At this stage, everything is possible. We cannot rule out everything at this stage, Yassin said.
There are fears that the blast was carried out by Islamic militants al-Shabab, who have been fighting Somalia's Western-supported government. However, the group with ties to al-Qaeda has not yet claimed responsibility for the blast.
The plane has been transferred from the runway to a private air dock for forensic investigations. Foreign experts are expected to join in the investigation.
Photo: AP