Somali Man Sentenced to 15-Years for Stabbing Woman in Britain and Fleeing to Ethiopia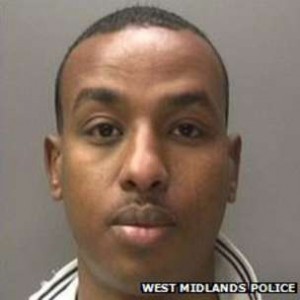 A Somali man, who fled to Ethiopia after stabbing a young woman in Britain, has been sentenced to 15 years in jail.
Mahad Aden, 33, was sentenced to 11 years in prison after pleading guilty to wounding with intent.
The incident reportedly happened on September 16, 2013 near Torcastle Close, Paradise Coventry. Aden and the victim, now 23, were reportedly in a "close, but not loving, relationship."
The victim had agreed to meet Aden in her car after pressing charges against him for punching her face and smothering her with a pillow. However, the meeting turned violent after she refused Aden's plea for the charges to be dropped.
Aden reportedly punched her face, pulled a knife from his sock and stabbed her repeatedly. He also kicked her repeatedly after she struggled out of the car. The carnage only stopped after two people showed up.
The victim, who was eventually rushed to a hospital, sustained stab wounds to the face, neck, chest and hands. She also suffered a collapsed lung.
After the fatal attack, Aden fled to Ethiopia where he stayed until 2015 when he arrived back in the UK. He was arrested at Heathrow Airport after two years of evading justice.
Reports indicate that following his arrest, Aden faced several charges including perverting the course of justice, witness intimidation, possessing a knife or bladed article in a public place and wounding with intent.
On Friday, the Coventry Crown Court which presided over Aden's case increased his sentence by four more years for "public protection."
The victim, whose identity has been withheld, read a touching statement in court revealing Aden's death threats targeting her family. Aden reportedly threatened to "hunt and kill" the victim and if he couldn't find her he would kill her family.
"When he started stabbing me I was still dazed. I put my hands up to my face and was looking down at the blood coming from my face," she said. "I knew if I didn't get out of the car he would kill me."
"I have scars on my body, face, chest, chin, neck and hands," she added. "I can't bare look at myself in the mirror because of what I look like."
"I feel people are staring at me and judging me. I feel like a body walking around with no soul."