Ethiopia: Scores Suspected Dead in Gambella Region as Anuak- Nuer Ethnic Clashes Intensify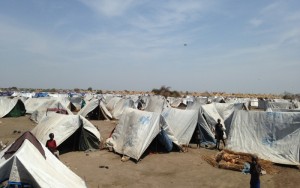 Ethnic clashes between the Anuak and Nuer peoples in Ethiopia's western region of Gambella has left a number of people dead.
The violent conflict had reportedly been brewing since September after a murder in a neighboring district.
According to Bloomberg, the murder, which has triggered retaliatory attacks, occurred in the Itang district. Although specific details of the murder has not been disclosed, officials say the violence has increased. Okello Obang, administrator of the Itang district, said several villages have been burnt as the clashes intensified.
Getachew Reda, Ethiopia's government spokesman, confirmed the fatal clashes. However, he said the situation has been tamed after security forces stepped in.
"A lot of people are expected to have died, but we don't know the exact number," he said.
Getachew added that at least 14 people are suspected dead. However, an investigation is ongoing to ascertain the exact number of causalities.
Under Ethiopia's federal system of government, the Gambella region is divided into different zones administrated by the Anuak, Nuer and Mazenger peoples. Itang is a neighboring mixed district.
According to reports, the fighting in the region, which has a history of low-level conflicts, may have been triggered by the war in South Sudan and the influx of refugees.
The Nuer-led rebellion in South Sudan has left many dead and forced thousands to flee the young nation. Over 200,000 refugees, mostly Nuer, are currently being hosted by Ethiopia.
Some suspect that the influx of weapons from South Sudan's two-year civil war may have peppered the ethnic insecurities in Gambella.
According to Dereje Feyissa Dori, a political expert with Addis Ababa University, the conflict may have been caused by Anuak fears of an increasing Nuer domination.
"It's accumulating tension from Anuak grievances over perceived Nuer dominance in Gambella region, but also some cross-border dimensions," Dereje said.
Getachew said although the cause of the ethnic clash has not yet been ascertained, the effects of South Sudan's conflict cannot be completely eliminated. However, he said "it would be a stretch to assume this was simply a result of the refugee crisis."
Photo: Francois Servranckx/MSF