South Sudan: Peace talks to resume in Addis Ababa today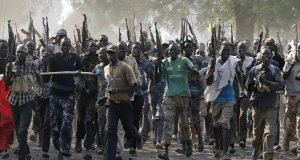 Representatives of President Salva Kiir and Riek Machar have reportedly made their way to the capital of Ethiopia ahead of the resumption of their negotiations today.
The peace talks, being mediated by the Intergovernmental Authority on Development (IGAD), has been postponed several times due to disagreements between the two factions.
However, the release of four politicians accused of complicity in an alleged coup plot in December last year is expected to infuse life into the deliberations.
IGAD recently revealed that it has been in contact with both factions and some progress have been made in their pre-negotiation agreements. The regional authority also noted that both sides have shown commitment to the peace and reconciliation process.
Meanwhile, several pundits are calling on the South Sudanese government to lift the travel ban on the four politicians.
South Sudanese authorities have underscored the fact that the suspension of the trial of the group is expected to promote the peace process. However, President Kiir noted that the group can be recalled to the stand at any-time.
The rebels have requested that the 11 politicians accused of plotting the coup that led to this uprising take part in the peace talks. But IGAD has thus-far sided with the South Sudanese government and kept the group away from the negotiations.
Reports indicate that two top United Nations officials have visited South Sudan in the wake of widespread mass murder of civilians.
Navi Pillay, the UN's High Commissioner for Human Rights and Adama Deing, a UN envoy on genocide prevention, are reportedly in the war-torn country to investigate reports of ethnic massacres.
The UN Security Council has reportedly threatened to impose sanctions on the country if the attacks on civilians continues.
Reports indicate that thousands of people have been killed and nearly one million displaced since fighting erupted in the world's youngest nation late last year.
Besides the obvious security threat they are under, thousands of displaced people in the country are reportedly also at risk of experiencing a food crisis, according to humanitarian groups.
Meanwhile, the warring factions continue to slug it out in isolated confrontations across the country.
Photo/Reuters