Ethiopian Airlines to introduce flights to Mogadishu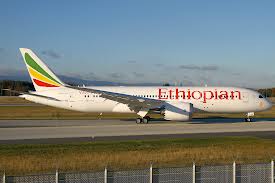 Ethiopian Airlines is set to initiate a new route to Mogadishu following the cooperative agreements in transportation and aviation between the two nations, reports indicate.
Analysts say that this move signifies a vote of confidence in the financial turnaround of the war-torn nation.
During an interview, Somalia's Minister for Air travel and Transport, Jama Qorshel, revealed that his government had recently signed a bilateral agreement with Ethiopia.
The agreement ceremony is reported to have taken place in Addis Ababa this week during a visit by Somalia's delegation led by Prime Minister, Abdiweli Sheikh.
The Minister further disclosed that Ethiopia would help train Somalia's transportation and aviation personnel in line with the pact signed by both governments. According to reports, Ethiopian Airline flights and other global airlines to Somalia were discontinued in the wake of civil wars two decades ago.
On his part, Ethiopia's ambassador to Somalia, Abdiaziz Ahmed, hailed the mutual agreement between the two neighboring states. He added that the agreement is aimed at helping people in both regions to easily access comfortable flights between Addis Ababa and Mogadishu in the near future.
Reports indicate that the cooperative deal between the two African regions is the first of its kind since Somalia fell into anarchy over two decades ago. According to Somalia's Minister, Qorshel, the agreement is very crucial for his government particularly since Somalia and Ethiopia are reported to initiate a joint program that involves training Somali Airlines personnel and officials from Somali Civil Aviation.
Reports indicate that the program is expected to revive Somalia's collapsed air services.
Prior to this move, it is reported that the Somali government was in the process of re-launching Somali airlines after more than two decades of discontinued operations.
Analysts say that the direct links between Ethiopia and Somalia are an indication of the development attained by Somalia following decades of civil war. According to sources, this will be the first time for the Ethiopian Airlines to have direct flight services to Mogadishu, Somalia's capital, since 1977.
Last September, Ethiopian Airlines reportedly suspended its flight services to Somaliland government over undisclosed circumstances. Currently, the Ethiopian Airlines flies to Hargesya, the capital of Somaliland, reports indicate.
In 2012, sources reveal that Turkish airline was the first global commercial airline to land in Somalia's capital in more than 20 years. The landmark flight came following the expulsion of Al-Shabaab militants from Mogadishu by the African Union forces.
It remains unclear when the Ethiopian Airlines will start offering the introduced services to potential clients, sources reveal. However, Somalia's Minister for Air Travel and Transport remarked that this step was an indication of improvement for the African country.
Since Somalia's central government collapsed, it is said that the Civil Aviation Caretaker Authority of Somalia (CACAS) has been managing the region's airspace.  CACAS is a UN-based agency that was formed in 1996 and has since collected over-flight proceeds on behalf of Somalia and re-invested the revenues into airport maintenance and air traffic control, sources reveal.
In May 2013, the Somali government said it would soon take control of its airspace, adding that personnel within the region were undergoing training to handle management duties. Meanwhile, the Mogadishu flights are said to target the growing business region in Somalia.
Photo: midnimo.com