Fightings continues in South Sudan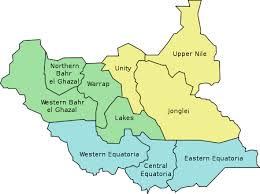 The United Nations has said that at least 10 people have died following the latest outbreak of violence in the world's newest country as rebel forces took control of parts of the capital of the oil-producing Upper Nile state, a military official said Tuesday.
South Sudanese military spokesman Col. Philip Aguer told the Associated Press that fighting erupted early Tuesday in Malakal
Aguer, who revealed that the rebels are now controlling parts of eastern Malakal, suggests they had received reinforcements from outside of the country.
"There is lot of evidence that planes have been landing, planes dropping ammunition, whose planes we don't know. Where they came from we don't know. That is the subject of an investigation," he said.
In a statement released on Tuesday, the UN revealed that at least 10 people have been reported dead at a U.N. hospital in Malakal from injuries. The statement further revealed that there was a threat to the U.N. compound in Malakal, forcing U.N. troops to "concentrate on protecting the perimeter of the camp from this external threat."
Grace Cahill, a spokeswoman for Oxfam in South Sudan, has reported that armed groups converged outside a UN compound where more than 21,000 people have gathered.
Despite the standing ceasefire agreement between the warring factions in South Sudan, clashes continue to be reported and both sides have accused one another of instigating the violence.
Rights groups have accused the warring factions of committing crimes against humanity and violating the UN's war codes. On Monday, South Sudanese military officials revealed that up to 20 soldiers have been charged for killing civilians.
After much criticisms from observers, the Ugandan government has revealed that it will gradually withdraw its troops from South Sudan.
A statement released on Wednesday by the Ministry of Foreign Affairs says "We believe that the deployment of ACIRC [African Capacity for Immediate Response to Crisis by the AU] is the most logical way to withdraw from South Sudan, without leaving a security vacuum that can be taken advantage of."
Meanwhile, negotiations between representatives of the warring factions continues to unfold in Addis Ababa.
Photo by Sudan Tribune.