Rwanda's $24m Solar Plant Deal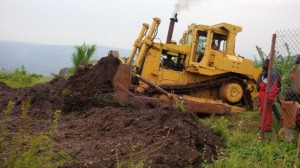 Reports indicate that Rwanda is set to become the first East African country with a utility-scale solar plant following a $24m deal.
This deal will see the construction of the plant outside Kigali, Rwanda's capital.
Currently, the East African country is said to have a power capacity that is slightly more than 100 megawatts for over 11 million people, many of whom are reported to lack access to electricity.
On the other hand, Israel has approximately 13,000 megawatts of available power for its 8 million residents.
Therefore, Yosef Abramowitz, an Israeli entrepreneur and president of Gigawatt Global has signed an agreement with the African country to address its power issues, reports indicate.
Following this agreement, Rwanda is expected to increase its power generation by at least eight percent by the end of this year. Analysts say that this development will ease pressure on Rwanda's utility body, Energy Water and Sanitation Authority (EWSA).
After the completion of the project, sources reveal that the plant will sell electricity to the Rwandan government according to the 25-year purchase agreement between EWSA and the investors.
According to a news release, Gigawatt Global is set to construct an 8.5 MW solar power plant with Energiya Global providing seed funding and strategic guidance for the project.
The CEO of Energiya Global, Mr. Abramowitz, hopes that the project will demonstrate that the construction of commercially viable solar plants is possible in Africa, reports indicate.
The project is said to be funded by investors such as FMO-the Dutch Development bank and Norfund, a Norwegian development body. Sources also reveal that the project has obtained grants from bodies financed by governments including the U.S. and UK.
According to reports, the Rwandan government aims to connect half of its 11m population to electricity by 2017. It is also reported that Rwanda's power access has increased from 6 % of the population in 2008 to 16 % in 2012.
It is said that a large portion of Rwanda's electricity originates from hydropower schemes but also depends heavily on diesel generation like numerous African countries. According to sources, Agahozo-Shalom Youth Village is leasing the land where the plant will be located.
It is also reported that some of the fees generated from the project will help finance the charity's current activities. Located 60 km from Kigali, the Agahozo-Shalom Youth Village is said to be an educational and residential community for youth orphaned after and during the 1994 Rwandan genocide.
Reports indicate that EWSA is currently conducting studies on the construction of a 10 MW solar plant in Rwinkwavu. The utility body also expects to invite prospective investors following the completion of the research, sources indicate.
The Rwandan government is reportedly keen on investing more steadily on renewable energy besides setting the goal of a five-fold increase in renewable power sources by 2017.
Meanwhile, environmentalists welcomed the project, citing the benefits of clean energy to environmental protection.
Francis Kayumba, an environmentalist, stated that green energies such as wind and solar do not have negative environmental impacts. He further added that they are more dependable than hydrothermal because they do not depend on water levels for productivity.
Besides providing more people with electricity access, this initiative is also expected to decrease electricity costs, analysts say.
Photo: site of construction/Courtesy