Explosion outside Somalia's International Airport Kills 6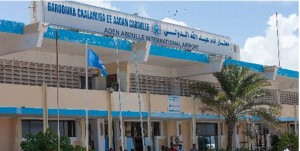 A remotely detonated car bomb went off near a checkpoint at the entrance of the Aden Abdulle International Airport, killing at least 6 people and injuring up to 15, reports indicate.
United Nations employees are reportedly among the injured, while the others are civilians.
A spokesman for the United Nations High Commissioner for Refugees (UNHCR), Daniel MacIsaac, has confirmed eye-witness reports that the attack targeted a UN convoy.
A report by the VOA quotes Mr. MacIsaac saying "The U.N. in Somalia strongly condemns the attacks and expresses deep sorrow at the reported deaths and injuries of Somali bystanders."
Reports indicate that the explosions only caused minor damages to the bullet-proof UN vehicles.
Meanwhile, Islamist militant group, al Shabab, have claimed responsibility for the attack on Thursday.
According to the group's operations spokesperson, Sheikh Abdil Assis Abu Musab, the blast, which targeted Western officials, killed 13 people – 3 of them white, and the remaining 10 of Somali origin.
Although African Union forces and the Somali army have succeeded in wrestling several urban cities in Somalia from the control of al Shabab, the group has staged several high profile attacks in the past few months.
Last month, al Shabab claimed responsibility for an attack on one of the foremost hotels in Somalia, the Jazeera Palace Hotel – which is close to the Aden Abdulle International Airport.
Mahamat Saleh Annadi, the African Union Special Ambassador to Somalia, has condemned the attack on the airport, which he described "as a classical display of Al Shabab's faltering capabilities."
He revealed that African Union forces and the Somali army are set to embark on operations to consolidate the security in several areas that have been liberated from the control of the terrorists.
Somali security officials have disclosed that investigations are ongoing into the attack on the airport, which is also being used as the main base for African Union forces in the war-torn country.
Photo by Dickson Migiro/Nation Media: Front view of the Aden Abdulle International Airport.