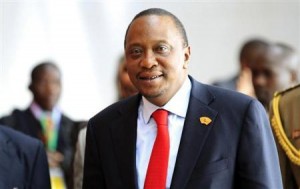 Judges at the International Criminal Court (ICC) have scheduled a meeting on Feb. 13th with the prosecution and defense teams in the ongoing case against the President of Kenya to deliberate on whether his trial should be adjorned, as the prosecution demands, or completely thrown out, as the defense team has suggested.
This revelation comes after a conference between the same parties on Wednesday Feb. 5th, during which the prosecution relayed their frustrations concerning the ongoing case, which they say has "collapsed."
According to the lawyer of the victims, Fregal Gaynor, the Kenyan government is using its authority to prevent the prosecution from accessing crucial evidence (i.e. the President's 2007 phone and bank records), which they contend will prove his culpability in the 2007 post-election outbreak of violence that left up to 1,000 people dead and many more displaced.
The prosecution has struggled to build a solid case against the President of Kenya as many witnesses have reportedly backed out. Two key witnesses recently also confessed to providing false testimonies.
This has consequently led to widespread accusations of witness intimidation directed at the government. But Kenyan officials vehemently deny these charges.
Ben Gumpert, one of the key prosecutors disclosed that "we have exhausted all reasonable prospects. But we are under a duty to pursue our investigations…
"We characterise the position of the government of Kenya as one of pure obstructionism," he concluded.
However, according to a lead defense attorney, Steven Kay, the prosecution's case was based on the testimonies of two principal witnesses, which turned out to be false.
Therefore, he argues that, rather than the defense's non-compliance, the prosecution's case was based on "falsity." He has further asked the court to dismiss the case.
The Hague's trial of President Uhuru Kenyatta and his deputy William Ruto has attracted much criticisms from the African Union, who accuse the ICC of being a neo-colonial tool used to unjustly target Africans leaders.
Pundits had noted that as the first sitting head of state to be tried by the international court, President Kenyatta's trial would set a precedent for instances in the future when sitting leaders are called to the stand.
However, given the trajectory of the case thus far, many have began to question if indeed trying a sitting president is a plausible idea.
Thus far, President Uhuru's trial has been postponed four times, and the prosecution has reportedly submitted another request to have the trial postponed once more – reportedly until Kenyan authorities are willing to comply with their investigations.
Although the court has granted President Kenyatta's request to attend his trial via video link, critics say his compulsory presence during some parts of the trial is bound to affect his consitutional duties.
Meanwhile, reports have emerged that the ICC's Judges are scheduled to meet with Kenyan authorities over the prosecution's accusations that its investigations are being stifled by the government.
Photo by Tiksa Negeri/Reuters.