Ethiopian Troops in Somalia Join African Union Peacekeeping Force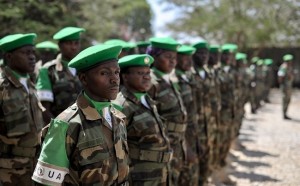 About 4,000 Ethiopian soldiers in Somalia officially joined the African Union Mission in Somalia (AMISOM) on Wednesday, bringing the total number of AMISOM peacekeeping forces in the country to over 22,000.
This move, which follows a United Nations Security Council Resolution 2124 last year, supports the bid to maintain control of areas that have been wrestled from terrorists in the war-worn country.
In a symbolic gesture, AMISOM's Commander, Lieutenant General Silas Ntigurirwa handed African Union berets and arm bands to the Ethiopian forces.
The increase in infantry and supplies is also expected to enable the joint AMISOM and Somali Army command increase their offensive against the al Qaeda-linked terrorists, who still control swatches of communities in Southern Somalia.
Although Ethiopia's was one of the first armies to have invaded Somalia in 2006 to support the Transitional Federal Government, the Ethiopian National Defense Force (ENDF) have largely operated independent of the African Union command.
However, President Hailemariam Desalegn revealed last year that the ENDF would officially join AMISOM this year, partly to offset the cost of the mission and to ensure better co-ordination in campaigns against the terrorists.
Ethiopia becomes the sixth African country to contribute troops to the AU peacekeeping mission in Somalia. The other countries providing soldiers include Burundi, Djibouti, Kenya, Sierra Leone and Uganda.
Under the command of AMISOM, Ethiopian forces are reportedly set to takeover 'sector 3' – a combination of Bay, Bakool and Gedo regions.
Ethiopian forces are also expected to provide support in 'sector 4', which is currently under the command of the Djiboutian forces.
Brigadier General Gebremedhin Fikadu Hailu of the ENDF has promised "that Ethiopia's Defense Force will make a difference in AMISOM's operation by clearing Al-Shabaab from sector 3 and 4 under the command of the force headquarters."
The new AMISOM 'Sector 3' Commander also promised Somalis and the AMISOM Force Commanders that his troops would obey AMISOM's operation standards.
In other news, Burundian troops were moved from Baidoa and will now head the new 'Sector 5', situated at Jowhar in lower Shabelle region.
Ugandan troops have also been moved from Baidoa to Mogadishu and Banadir region, which constitutes part of 'Sector 1'.
AMISOM was created by the African Union Peace and Security Council in 2007 to assist Somalia in its recovery from over a decade of anarchy and civil unrest.
Thus far, the mission has recorded several gains in curbing the spread of insurgency and establishing the rule of law.
Although both nations have not always been the best allies, Ethiopia has a long-standing relationship with Somalia, dating into antiquity.
Photo: A section of Ethiopian soldier in their AMISOM apparels.