Kenya Completes Polio Immunization Campaign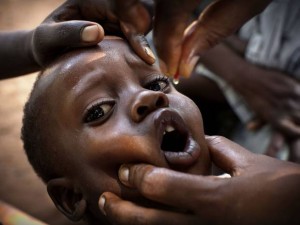 After a rather eventful campaign, in which both the public and doctors are guilty of causing delays, Kenya's Ministry of Health on Wednesday completed a nationwide polio immunization exercise.
In total, about 8 million children under 5 years of age have been immunized in this campaign, which began last year.
For several years, Kenya has been considered a polio-free nation. However, an outbreak of polio in Somalia, Ethiopia and later Kenya last year, led medical professionals to re-categorise Kenya and other east African nations, where polio is quickly resurfacing, as a "wild poliovirus importation belt."
In 2013, up to 14 cases of polio infections were recorded in the Dabaab Refugee Camp, Northeastern Kenya.
This reportedly prompted the Ministry of Health to embark on the mass immunization exercise, which by November officials revealed had been about 95% complete.
However, the strike by medical workers last year and resistance against the vaccine from religious groups led medical authorities to temporarily halt the campaign.
Reports emerged last year that 3 children had died after a group of religious extremists prevented their offsprings from receiving polio vaccinations in Naivisha County. Luckily, health authorities intervened quickly to save the sickly children.
At the launch of an immunization exercise in Baringo County on Saturday, the Principal Secretary for the Ministry of Health, Fred Segnor, noted that the 5-day campaign is meant to complete vaccination for an estimated 40,000 children in areas un-visited by the immunization team last year.
He also disclosed that the Ministry of Health is collaborating with the Ministry of Education to ensure polio vaccination certificates are made a precondition for admission into school for all children under 5.
In total, about 22 counties (including some in Nairobi) are reported to have been the target of this short immunization excercise.
Health authorities continue to assure the public of the safety of the vaccine, which they say has been approved by the World Health Organization (WHO).
Besides the polio vaccine, medical professionals have revealed that the children are also given Vitamin A supplements.
Recently, the Indian government – after successfully eliminating polio in her territory – issued a directive requesting all persons from a number of countries, including Kenya, who are visiting the South Asian nation from February 14th to have been vaccinated for polio.
Despite the sustained effort by global health authorities against this virus, which can lead to permanent disability, it seems to crop up when least expected, this has led many health experts to conclude that laws must be put in place to ensure every child under 5-years entering a polio-free zone must be immunized or provide proof of immunization.
Photo by The Independent: A child receives polio vaccination in Nairobi.