South Sudan: Warring Factions Agree to Ceasefire Deal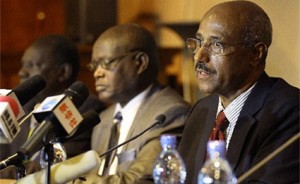 Representatives of President Salva Kiir and his former deputy Riek Machar have signed a ceasefire agreement in Addis Ababa on Thursday to halt over a month of fighting in the world's youngest nation.
This development comes after the government of South Sudan reclaimed the remaining two cities under rebel control in the past few days.
Several pundits had expressed concerns that the rebels may not want to sign the ceasefire agreement in light of their losses on the battlefield.
The Ethiopian Foreign Minister Dr Tedros Adhanom, who played a key role in the negotiations, has said that the Inter-governmental Agency for Development (IGAD) is committed to "the implementing and verification of this negotiations."
The ceasefire deal reportedly requires both sides to stop fighting within 24 hours and also directs the government of South Sudan to release the 11 ex-state officials in custody.
But President Kiir is quoted on one of the nation's official Twitter pages saying "There will be amnesty for the political detainees, but it will be after investigations."
Meanwhile, representatives of both delegations in Addis Ababa have expressed committment to the terms of the deal.
Several aid organizations as well as the United States government have welcomed the announcement of the cessation of hostilities in South Sudan, which they say will allow aid and medical supplies be delivered to thousands of displaced people across the nation.
The Chairperson of IGAD Special Envoys Ambassador Seyoum Mesfin has also revealed that the talks in Addis Ababa will temporarily break from January 24th until February to enable preparations for the ceasefire agreement to be implemented and for formal peace talks to begin.
Photo by Daily Nation: A section of delegates at the negotiations in Addis Ababa.