President Kirr Appoints New Officials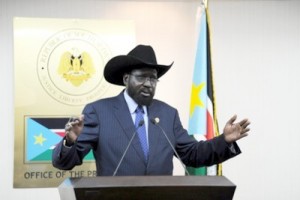 President Salva Kiir Mayardif of South Sudan has announced the appointment of a number of senior government officials, following the largest reshuffle in the history of country's cabinet earlier in the year.
The President revealed on Thursday that Pauline Wanawilla has been appointed the country's Justice Minster, while Dr Salwa Jibril and Member of Parliament for Maridi County Peter Bashir Gbandi are set to take the positions of Deputy Minister of Cabinet Affairs and Deputy Foreign Affairs Minister respectively.
He also disclosed that Mr Telar Ring Deng has been reinstated to his old post of Presidential adviser on Legal Affairs and ex-Defense Minister General John Koang Nyuon has been appointed interim Governor of Jonglei state.
This the the second batch of new appointments the government is making after the announcement of the appointment of about 29 ministers and their deputies in August.
President Kirr, in August, justified the reshuffle exercise explaining that it was part of a move to create a smaller and more effective government in light of several austerity measures the country had to implement.
Source: Daily Nation
Photo by UN