Ethiopian Police Disperse Protesters Outside Saudi Embassy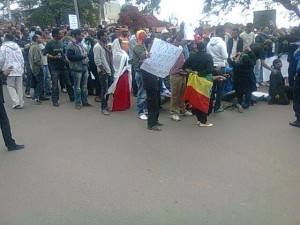 The Ethiopian Police clamped down on protesters outside the Saudi Embassy today, blocking off routes leading to the building and inspecting photos taken by reporters, according to a report by the Associated Press.
The protests come after the government of Saudi Arabia officially began an exercise to expel all illegal immigrant. Earlier in the year the Saudi government issued a directive giving all illegal immigrants 7 months to straighten out their papers—this 'amnesty' period expired earlier in the month. At least one Ethiopian national is reported to be dead and several others mistreated as Saudi security agencies try to round up immigrants without proper papers.
The Ethiopian government revealed that her consulate in Saudi has been working to repatriate all her citizens in the country since the exercise began earlier in the month. The first set of Ethiopians repatriates arrived in the country on Wednesday, amid growing fears of increasing mistreatment of Ethiopians in the Middle Eastern kingdom.
Meanwhile, the Ethiopian government has vowed to stop the violence against her citizens. Last month, Ethiopian officials held a meeting with Saudi diplomats over reports that Ethiopian workers are mistreated by their employees. Following this meeting, Saudi officials promised to bring the issue up with the appropriate authorities.
Hundreds of Ethiopians are reported to travel to Saudi Arabia yearly in search of employment. Sometime last month the Ethiopian government placed a ban on her citizens from traveling to Saudi for employment for about 6 month. According to the Prime Minister Hailemariam Desalegn, the temporary ban was put in place in light of reports of the mistreatment of Ethiopian workers in Saudi. He expressed hope that the government would find lasting solution to the troubling reports.
Photo by Zehabesha