UN Security Council Rejects AU's Proposal to Postpone ICC'S Trial of Kenya's Leaders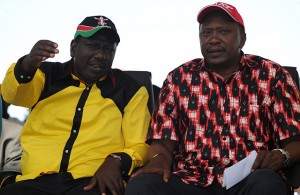 The UN Security has rejected the African Union's demand to suspend the International Criminal Court trials of Kenya's President Uhuru Kenyatta and his Deputy William Ruto for at least a year.
The resolution did not pass after falling to get the required 9 votes. 7 members including China and Russia are reported to have voted in favor of the motion, while 8 members including Britain, France and the United States refrained from voting.
President Uhuru and his Deputy are being charged with crimes against humanity for their alleged role in a post election outbreak of violence in Kenya's rift valley region in 2007, which left over 1,000 people dead. Both men have since denied the charges against them and their legal teams have attempted to postpone or stop the trials following Al Shabab's attack on the Westgate mall in Nairobi, stating that it interfered with their constitutional duties.
Rwanda's U.N ambassador Eugene Gasana said before the meeting that the resolution was not about the vote but about the Councils relationship with the AU.
"This is about our [Africa's] relationship with the Security Council," he noted.
Guatemala's UN ambassador Gert Rosenthal, speaking to the council after the voting, explained that the decision by some countries to abstain from voting should not be confused to be a sign of "ill-will" towards the AU.
Several member of the AU have criticized the ICC's handling of the case against Kenya's leaders to highlight what they perceive to be the court's disregard for the special circumstances confronting Africans who are called to trial.
The Security Council's rejection of the proposed AU resolution on Friday comes after a recent poll released on Thursday revealed that 67 percent of Kenyans would like to see the ICC trial of their President and his Deputy continue.
Source: Reuters
Photo by Simon Maina/AFP/Getty Images