President Kirr Disbands Key SPLM Administrative Structures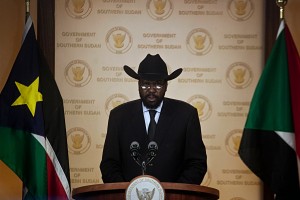 The President of South Sudan and chairman of the Sudan People's Liberation Movement (SPLM), Kirr Salva Mayardiff, on Friday announced the dissolution of key structures in his party.
This move comes after the party has failed to hold a crucial elective convention since May this year due to internal dispute.
Speaking at the opening of new SPLM offices, President Kirr said the party's highest executive unit, the Political Bureau (PB), and its National Liberation Council (NLC), were effectively disbanded. He said an interim body would be formed to organize the party's convention, which is scheduled for the 23rd – 25th of this month.
President Kirr explained that his decision to dissolve these SPLM structures is because they have exceeded their lifespan and the failure to hold the convention has prevented the election of new officials to replace the current ones.
Meanwhile, United Nations Secretary General Ban Ki Moon yesterday called on President Kirr to reconcile members of the SPLM ahead of the country's elections in 2015. There are fears that the scheduled election may not take place as the government is yet to fulfill crucial preparatory steps such as conducting a nation-wide census.
The SPLM, founded in the late nineties, waged a prolonged war with the government of Sudan for the rights of the people of South and Western Sudan. In 2005 a treaty was signed between both factions, leading to the creation of South Sudan. Following the establishment of the new state and the transformation of SPLM into a political party, the Sudan section of SPLM separated and have renamed themselves the Sudan People's Liberation Movement-North (SPLM-N).
Photo by AP