Tanzania Holds Back from East Africa's Single Tourism Visa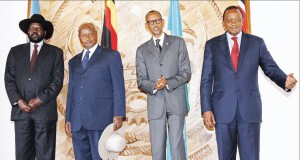 The Tanzanian government has announced that it will not be part of efforts to fast track the East African single tourist visa until the required fee collection infrastructure has been put in place.
A spokesman for the Tanzanian Ministry of Natural Resources and Tourism, Chikandi Rumisha, said "The proposed network of sharing data on tourists and fee collection, as well as security issues leaves a lot to be desired." "For instance, when a tourist pays entry fee in Kenya, and he or she gets security problems here, we (Tanzania) will incur costs?," the spokesman asked.
Mr. Rumisha also highlighted on the importance of Information and Communications Technology (ICT) in implementing the single visa to facilitate information exchange and revenue sharing between countries.
This new announcement by Tanzania comes at a time when Kenya, Uganda and Rwanda are preparing to unveil a common tourist visa at the London World Travel Market (WTM) – the world's largest tourism trade fair which opens on Monday. The official launch for the common visa will however be held in January 2014.
Despite Tanzania's reservations, the coordinator of the East African Tourism Platform, Waturi Matu, maintains that Kenya, Uganda and Rwanda have realized that the benefits of the common visa far outweigh the disadvantages. "Rwanda will be in charge of designing the visa, and the plan is to have it launched in January next year with Tanzania and Burundi free to join at any time," Ms Matu added.
With the new East African Tourism visa, tourists will only be required to pay $100 instead of $150 for three separate visas. Travel agents and other players in the tourism industry will also be able to offer multi-destination packages since tourists will now be free to move between the three countries.
Last week President Uhuru Kenyatta, President Paul Kagame of Rwanda, Uganda's President Yoweri Museveni and President Salva Kiir of South Sudan signed several cooperation agreements and protocols at the "Transform Africa Summit" held in Kigali, Rwanda.
The idea of East Africa's common tourist visa was first floated over a decade ago, but it stalled because EAC member countries could not agree on security issues including visitor screening and how to split revenues among other issues. However, in June the Presidents of Kenya, Rwanda and Uganda met and formed what has come to be known as 'the coalition of the willing', agreeing to fast track the common visa.
This and other partnerships and agreements between the three countries have caused increased tensions with Tanzania. In fact Tanzania recently threatened to pull out of the EAC for what it termed as "sustained isolation." The country's minister for EAC affairs even told parliament that they would not wait for a "divorce certificate" from Kenya, Rwanda and Uganda, but would shoot before they were shot.