Ethiopian striker Getaneh Kebede recovering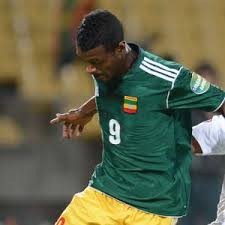 Ethiopians are optimistic injured Walyas striker, Getaneh Kebede, will recover from his angle injury before their second leg World Cup qualifier match with the Nigerian Super Eagles.
Due to his injury, Getaneh has been out of action for two months and missed the key first leg World Cup qualifier match against Nigeria.
Getaneh has been receiving treatment in South Africa with his club, Bidvest Wits. He emphasized his strong commitment to his national team in his remarks about his treatment.  "As a player I have been really stressed about my injury since it made me miss important matches but had faith and my doctors assured me all is well," he said. "My treatment has been going on well and now I have started light training and am very optimistic I will be ready to play for my beloved Walia in the return leg against Nigeria."
Commenting on the national team's recent performances, he credits the recent successes of the Ethiopian national football team to their togetherness.
Getaneh has made his home town, Dilla, proud through his performances. The Mayor of Dilla, Yossef Gumi, has said Getaneh Kebede is one of the best football players the town has produced.
Getaneh is hoping to fully recover in time for the much anticipated return leg against Nigeria and has already started light training.
"It has not been easy but as a player you expect such situations because my club Bidvest have also felt my absence but I intend to return with a bang to do what I love most that is scoring goals," he said to supersport.co.
Source: Supersport