Turkey Bans Elvan Abeylegesse for 2 Years for Doping After Tests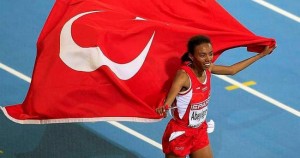 Turkey's Athletics Federation (TAF) has banned suspended Ethiopian-born Turkish middle and long distance runner Elvan Abeylegesse for two years. The TAF's disciplinary committee announced Abeylegesse's ban on Thursday after a new analysis of her urine samples from the 2007 World Championships tested positive for doping.
Abeylegesse was initially suspended last year after her samples showed traces of banned substances.
She reportedly tested positive for traces of stanozolol, a type of steroid.
The International Association of Athletics Federations (IAAF) conducted the reanalysis of her samples from 2005 to the 2007 World Championships.
The TAF's decision to ban Abeylegesse comes a week after the athlete sued the IAAF for technical lapses during the analysis of her samples. The suit against the IAAF was filled at a Monaco administrative court.
Abeylegesse has consistently denied using banned substances. Her manager Onder Ozbilen decried the TAF's decision to ban Abeylegesse. He argued that his client would be cleared of the doping charges by the court.
"Elvan has never used a banned substance; the IAAF decision is based on interpretation, not facts," Ozbilen said. "The decision of the disciplinary committee of the Turkish Athletic Federation is unlawful while the case in Monaco is underway."
Abeylegesse's suit claims the IAAF made several mistakes in the retrospective analysis of her urine samples.
According to Ozbilen, about eight inconsistences were discovered in the IAAF's handling of Abeylegesse's samples. These technical lapses were reportedly discovered by an expert with the World Anti-Doping Agency (WADA).
Abeylegesse came second in a 10,000-meter race during the 2007 world championships in Osaka, Japan.
Last year, the IAAF launched an investigation into 28 athletes who competed in the 2005 and 2007 World Championships. The inquiry revealed 32 disturbing findings.
Photo: Sabah