Truck Hits Nine Ethiopian Athletes Training Along Addis Ababa Highway, 1 Dead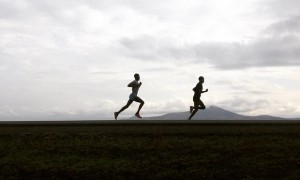 An Ethiopian long distance runner has died after being struck by a truck while training with other athletes along a highway in Addis Ababa.
The tragic incident happened over the weekend on a road in Sululuta, north of Addis Ababa, where the nine athletes were training.
Four of the nine athletes are reported to have sustained serious injuries in the accident including broken limbs.  The injured athletes have since been transported to the hospital where they are being treated.
One of the four athletes is 24-year-old Damtew Tilahun, who is reported to be in critical condition and needs surgery to survive. He sustained severe injuries to the neck and head.
Four unnamed runners, who sustained minor injuries, have since been discharged from the hospital.
Yonas Mekonnon, a Rehoboth Athletics agent representing the athletes, provided names of the injured and deceased.
According to Mekonnon, 25-year-old Ashagre Girma died following the fatal collision.
Following the tragic incident, a public fund raiser has been created on "YouCaring" by runner site LetsRun. The campaign, which has a goal of $20,000, aims to cover the medical cost of the athletes.  The funds will also help Girma's family with the funeral expenses.
Photo: Michael Crawley/The Guardian