Suspended Turkish-Ethiopian Athlete Sues IAAF for Technical Mistakes in Doping Tests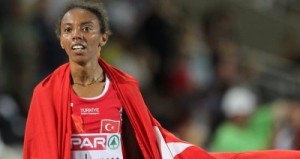 A suspended Turkish-Ethiopian athlete has sued the International Association of Athletics Federations (IAAF) for technical lapses during the analysis of her urine samples. Elvan Abeylegesse reportedly filed a suit against the IAAF at the Monaco administrative court on Wednesday.
The Ethiopian-born athlete was suspended last year by the Turkish Athletic Federation. Her suspension came after tests of her urine samples from the 2005 to 2007 World Championships showed traces of banned substances.
However, the athlete has denied allegations of doping. "I have not used a banned substance, and I have never thought about taking one," Elvan said.
According to her agent Onder Ozbilen, the IAAF made several mistakes during the analysis of her samples. He added that reports from an expert who works for a World Anti-Doping Agency (WADA) laboratory where tests are conducted buttressed his claims.
"Eight or nine technical failures were made in the retrospective analysis, "Ozbilen said.
He questioned the IAAF storing conditions of the samples in question.
According to Ozbilen, Elvan had sought to solve the matter with the IAAF quietly. However, the issue was taken to court after the IAAF's refusal to agree to a solution.
Elvan's suspension due to the IAAF's testing will be annulled if she wins the case.
Elvan came second in a 10,000-meter race during the 2007 world championships in Osaka, Japan.
The IAAF announced last year that it was conducting an investigation into 28 athletes who competed in the 2005 and 2007 World Championships.
According to reports, the IAAF discovered 32 disturbing findings during investigations. Most athletes who partook in the championships are either retired or have been suspended for doping.
The IAAF has been dealing with an international doping scandal involving athletic powerhouses like Russia, Ethiopia, Kenya, and Ukraine.  Several top athletes are facing suspension after testing positive for banned substances.
The international sporting body has asked Kenya and most recently Ethiopia to strengthen their respective anti-doping measures.
The IAAF on Wednesday announced 21 members of a new advisory group that will help usher in change to athletics.
Photo: Futbolingo